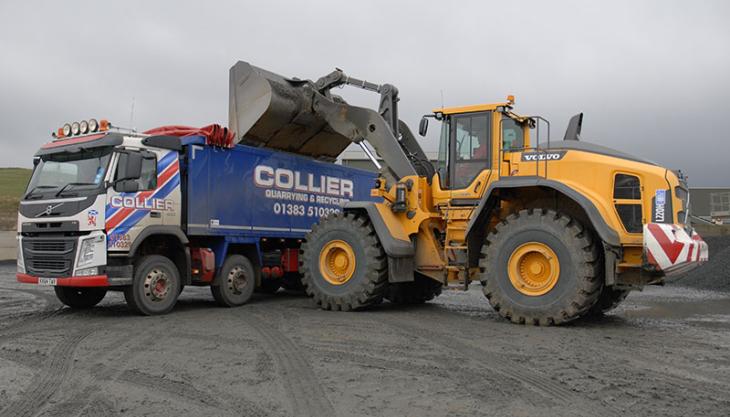 Two 32-tonne L220H loading shovels take on rehandling duties at Goat Hill Quarry in Fife
TWO new Volvo L220H loading shovels have been delivered to Collier Quarrying & Recycling, a division of the Collier Group located at Cowdenbeath in Fife, to undertake rehandling duties at the company's Goat Hill Quarry.
 
Although Collier Quarrying & Recycling are no strangers to Volvo loading shovels, these latest 32-tonne machines are the first to be purchased new from the outset, complete with a three-year driveline warranty package and Volvo Blue service agreements.
The new machines are being deployed on general duties around the quarry as production at the Goat Hill facility is stepped up. In particular, the machines are in charge of the stocking-out area where high-quality +65 PSV stone chippings are loaded out on the company's own fleet of Volvo road-going lorries as well as on general haulage vehicles distributing material as far afield as the Midlands.
Introduced at this year's Hillhead exhibition, the all-new Volvo L220H features a 13-litre Stage IV final engine that develops 373hp at between 1,300 and 1,400 rev/min. The machine also benefits from various Volvo-manufactured driveline components designed to offer significant fuel savings on each shift.
As well as producing a high-quality +65 PSV stone, Collier Quarrying & Recycling's Goat Hill facility houses a recycling centre that can accommodate inert construction waste and produce recycled Type 1 and Class 6F2 materials, as well as subsoils, topsoils and bulk infill materials.