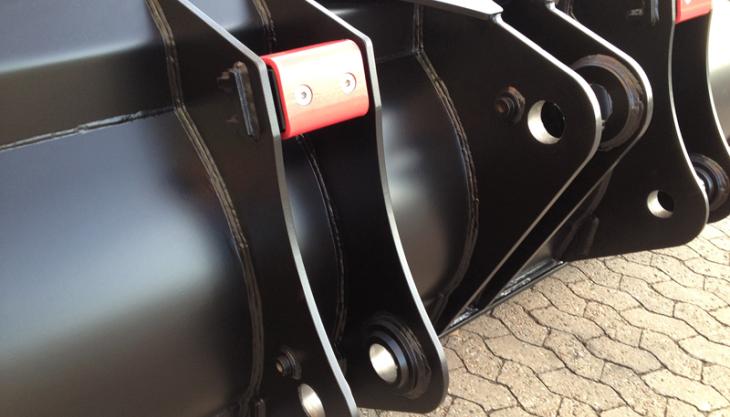 Company trialling inclusion of shock-absorbing blocks on buckets and quick-hitches sold in UK
VIBY Attachment are trialling the inclusion of patented shock-absorbing blocks on all direct-mount wheel loader buckets and quick-hitches supplied in the UK.
The move provides operators with benefits including noise-reduction, minimized bucket vibration and reduced operator fatigue, enhancing the smooth-ride function already built into many machines.
Machine operators will thus experience a smoother ride and lose less material over the sides of the bucket during carry cycles and roll-back.
The Viby Attachment anti-vibration block consists of a plastic resin material which has significant compression qualities while remaining outwardly solid. A steel plate encases the plastic and is bolted to the attachment roll-back stops.
The attachments manufacturers have this month begun a 12-month pilot where they will be fitting the blocks as standard, free of charge, on all new direct-mount buckets and quick-hitch attachments sold in the UK.
Andrew Little, director of Viby Attachment UK, said: 'The anti-vibration block is a relatively new addition following its development by our team in Denmark. Up until now though, we've fitted them only as optional extras.
'We nevertheless felt they provided such significant benefits to customers that, for very little cost to ourselves, they should be included as standard. If our customers are impressed, it is likely that this trial offer will become a permanent fixture.'
Viby say they are the only bucket manufacturer who currently offers such a solution to noise reduction and shock absorption.
Mr Little added: 'Clatter and reverberation caused by bucket attachments may have previously become accepted as the norm. But why accept it when there is a simple solution to the problem. Especially when the knock-on benefits mean reduced stress on the operator, the machine – and the bottom line.'