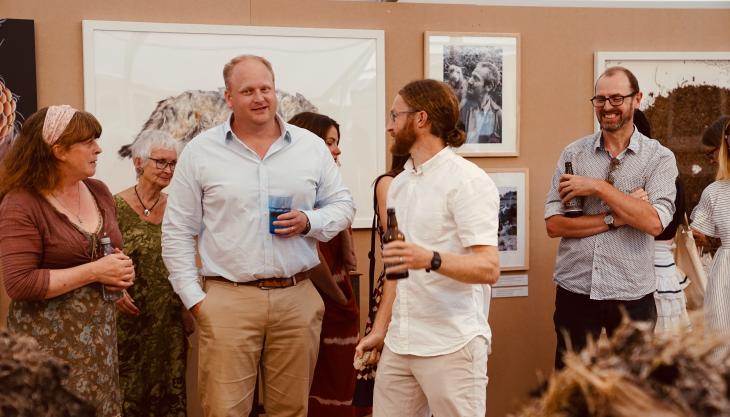 Displayed artwork at National Stone Centre celebrates 'hidden layers beneath our feet'
A UNIQUE exhibition that celebrates how the connections between soil health and underlying geology – the 'hidden layers beneath our feet' - influence our daily lives has opened at the National Stone Centre (NSC), in Wirksworth, Derbyshire.

Sponsored by local aggregates firm Longcliffe Quarries, 'EarthBound – The Story of Connected Life Through Rock, Earth and Community' opened on 16 July and runs until 11 September.

The idea for EarthBound – a multimedia art exhibition featuring photography and sculpture – was seeded by Derbyshire-based photographer Kate Bellis, but brought to reality by various talented creative collaborators, Natural History photographer Alex Hyde and sculptor Sally Matthews, as well as other artists who have come together to tell this layered story. 
More than 200 people attended the very successful opening of the exhibition on 16 July where quarry workers, farmers, and other Derbyshire people mingled to view the displayed work. The exhibition is presented in a new outdoor exhibition space created by the Institute of Quarrying following its merger with the National Stone Centre in 2021.

Longcliffe managing director Paul Boustead and other Longcliffe employees were among the first to enjoy the unique exhibition. Mr Boustead said: 'It was fantastic to see EarthBound opened and to see such a range of interesting artwork on display at the National Stone Centre. As a nearly 100-year-old quarrying company, Longcliffe is proud to support EarthBound's exploration of the hidden layers beneath our feet.  We hope many people from far and wide take time to visit it in this perfect location.'

EarthBound's curator and project manager, photographer Kate Bellis, was delighted with how the opening night went.  She commented: 'Thank you to the hundreds of good people who came to give us such amazing support and enjoy the art.  We are really grateful for the amazing support we have received from Longcliffe, the National Stone Centre, the Natural History Museum and, very importantly, the community.

'I hope many people come along to enjoy EarthBound. It is a thought-provoking presentation of the importance of the landscape that we are part of and the ground beneath us. It aims to make us think a little more about the hidden story written in the earth beneath our feet, the life there now and the layered history of rock and earth.'