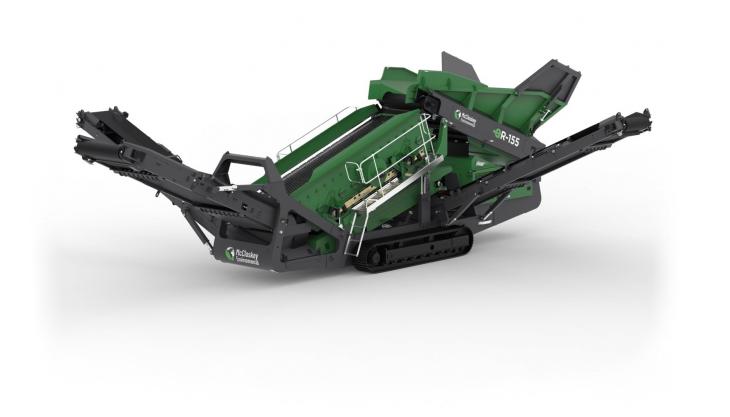 Evolution of recycling and environmental business; Agg Pro awarded McCloskey Environmental dealership

DUE to a dynamic expansion and the realignment of their recycling capabilities, McCloskey International have announced a new brand identity that will support the evolution of their recycling and environmental business unit and reinforce their commitment to the waste-recycling sector worldwide. The business will move forward under the new brand of McCloskey Environmental (MCE).
McCloskey say the strategy for the new division, which is headquartered in Northern Ireland, is built on partnership with companies that have the expertise to deliver solutions that maximize profit and deliver exceptional performance. Together with these companies McCloskey Environmental will design and manufacture a full range of environmental products, including shredders, trommels, and stackers.
Commenting on the launch, McCloskey product line director Ben Frettsome said: 'Our customers are always seeking modern, flexible, and cost-effective waste-processing solutions. Our customer-driven approach to product development has led us to invest significantly in the establishment of this new business unit, focused on the design and manufacture of high-quality recycling equipment.
'The products produced by McCloskey Environmental will deliver significant advantages to customers, including lower cost of ownership, lower cost of production, and ease of operation and maintenance.'
Fergal Mallon, product line manager at McCloskey Environmental, added: 'McCloskey are leveraging their engineering experience to develop new equipment for the global recycling sector at a key time. It's time for a smarter approach to waste processing and to collaborate with customers.
'Looking ahead, we are very optimistic about the future of this division and the strong position we are in going into 2022. We have an exciting list of product introductions and strong partnership announcements in the coming months.'
Today [26 January] saw the first of these announcements, with the news that quarrying and recycling machinery specialists Agg Pro have been awarded a new dealership for the McCloskey Environmental range of equipment.
Geoff Caves, managing director of Agg Pro, said: 'We are delighted to be working with McCloskey in delivering a range of products that not only promote more cost-effective solutions for our customers, but also set a precedent within the market to emphasize the hugely significant need to promote environmentally sustainable solutions.
'McCloskey Environmental demonstrate the innovative and forward-thinking nature of McCloskey as a whole. The brand echoes everything we at Agg Pro stand for and together I truly believe we can achieve great things.'