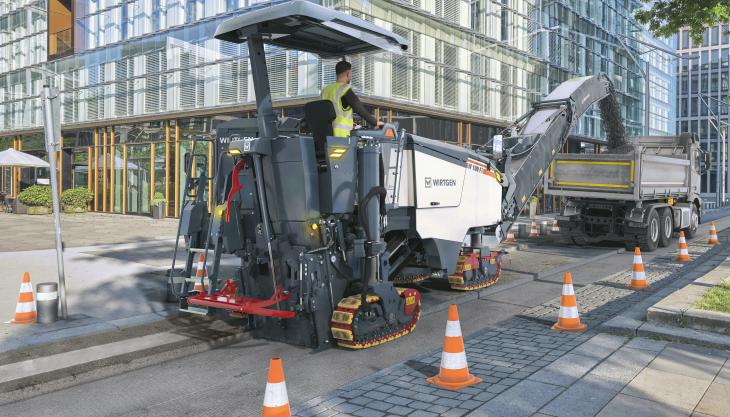 Wirtgen introduce new class of cost-efficient and sustainable F-series cold milling machines
WITH the European launch of the W100Fi, W120Fi and W130Fi cold milling machines, Wirtgen now offer a trio of high-performance, next-generation, one-metre-class compact milling machines that feature the innovative technologies of the company's proven F-series large milling machines.
The three front loaders with working widths of 1.0m, 1.2m and 1.3m feature environmentally friendly engine technology compliant with EU Stage 5 / US Tier 4 Final exhaust gas emission standards. All three machines are powered by a state-of-the-art John Deere diesel engine with a rated output of 265kW (360hp).
Wirtgen and John Deere have precisely tuned the torque characteristics of the engine to meet the specific needs of the cold milling process. As a result, the machines use significantly less fuel, even when delivering highest productivity and milling to a maximum depth of 330mm.
Also onboard are the digital assistance systems Mill Assist machine control, Wirtgen Performance Tracker (WPT) and the Level Pro Active levelling system found on Wirtgen's large milling machines, giving customers the same benefits of high milling performance, efficiency, and clear documentation in the compact milling machine class.
In automatic mode, Mill Assist selects the operating strategy with the most favourable balance between milling performance and operating costs. This increases milling performance and simultaneously reduces fuel, water and pick consumption, and CO2 emissions.
The milling machine operator can also pre-select one of three alternative operating strategies: 'ECO', 'Performance-optimized', or 'Milling pattern quality'. This makes it possible, for example, to pre-define the required milling pattern quality on a scale from 1 (coarse) to 10 (very fine) at the press of a button.
Mill Assist also automatically controls the drive system. In conjunction with the diesel engine, a broad spectrum of applications can be realized by reducing or increasing the milling drum speed. The low-speed range delivers significant reductions in fuel consumption and minimizes pick wear, whilst in the upper speed range, a high-quality milling pattern can be achieved, even in the case of higher area performance rates.
Wirtgen Performance Tracker automatically and precisely determines area performance rates, milling volumes, and the fuel and water consumption of the machine – without any need for external surveyors on site.
The machine operator can view all important performance and consumption data in the operator's cabin in real time and send an automatically generated report to the machine owner by email immediately after completion of the milling job.
With their compact dimensions and optimized weight for easy transportation, the highly manoeuvrable cold milling machines are particularly suited to milling work where space is limited. Their high productivity also makes then suitable for surface layer rehabilitation and complete pavement removal on smaller or medium-sized job sites.
Thanks to the ability to quickly change the FCS milling drums with different pick spacings and working widths, the new compact milling machines can also be rapidly reconfigured on site to adapt to changing applications.
The newly developed operator's cabin is characterized by comfort and ergonomically designed control elements, with a clear overview of all relevant working areas thanks to the slender 'wasp' waist of the machines and up to five cameras. A new 5in control screen in the multifunctional armrest displays all machine-relevant information.
Another smart solution is convenient rear access to the milling machine that automatically adjusts to the machine height, providing ergonomic access to the cab in all working scenarios.