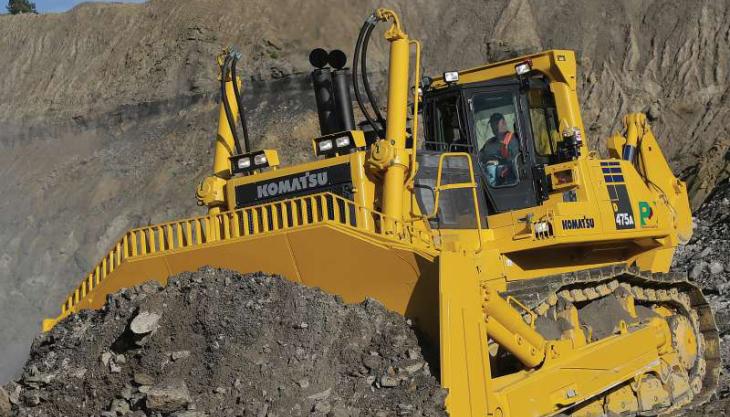 Construction machinery author David Wylie prepares to release new earthmoving and mining book
FOLLOWING the success of his first book – Earthmovers in Scotland, David Wylie is preparing to self-publish his new book – Earthmovers in UK & Germany.
This new publication will bring more interesting mining- and quarrying-related site visits to life and Mr Wylie has also added demolition and renewables sectors into this latest book. Contained within its pages are what he describes as arguably some of the biggest, best and most historically significant pieces of earthmoving equipment ever produced.
Earthmovers in UK & Germany brings together reports that capture interesting site details, company history, and operators, managers and owners' views on operating these powerful machines. The book features some of the largest earthmovers in the UK and Germany, including a massive Komatsu D475A-5 bulldozer weighing more than 115 tonnes and the last two remaining 520-tonne O&K RH200s working as a team in Europe, at Banks Mining in Northumberland.
Factory visits include Caterpillar Mining, where the company manufactures the world's biggest hydraulic excavator, the 1,000-tonne Cat 6090 FS faceshovel, and a visit to Komatsu Mining for a first drive of their new Komatsu PC4000-11.
The book explores these two German mining equipment factories for their current, historical and important links with the UK, developing iconic machines such as the O&K RH300, RH120-C and RH200, and the Demag H255S which quickly became the PC3000-1.
The book also covers large excavators adapted for the demolition industry and the amazing performance of a spider excavator clinging to a steep hillside, whilst guest contributor Keith Haddock reports on Germany's giant bucket-wheel excavators.
More than 400 stunning photographs, including over 80 high-quality double-page shots, take pride of place across the book's 28 chapters.
Providing an in-depth look at the earthmover scene both in the UK and Germany, this impressive second book will be of interest to owners, operators, site managers and enthusiasts worldwide as an important record on earthmoving machinery for future generations.
Earthmovers in UK & Germany will be available to purchase direct from David Wylie before Christmas 2019. For further information, contact David Wylie at: www.facebook.com/earthmovingbooks