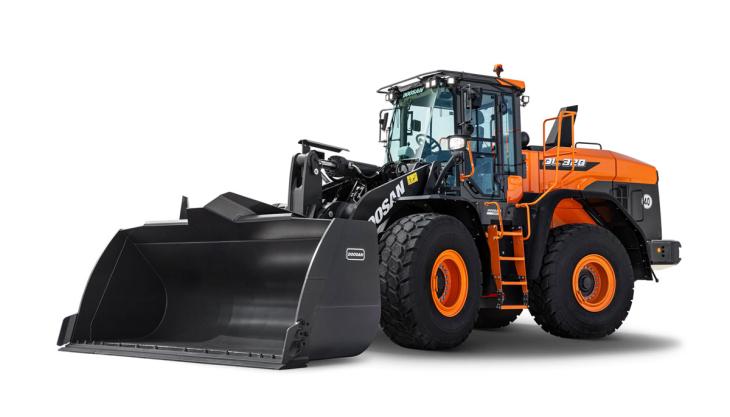 Latest DX225MH-5 material handler and DL320-7 wheel loader on show at 2022 ISRI exhibition 
DOOSAN Infracore will be displaying their new DX225MH-5 material handler and DL320-7 wheel loader at this year's Institute of Scrap Recycling Industries (ISRI) Convention and Exposition, which takes place on 21–24 March, in Las Vegas.
Showcasing their recycling and waste-management expertise at one of the world's largest international recycling events, Doosan's DX225MH-5 extends the South Korean manufacturer's material handler range for use in the solid waste, recycling, and demolition industry sectors.
Based on the successful 22-tonne DX225LC-5 excavator, the new DX225MH-5 borrows and features the same crawler-type undercarriage that is particularly suited for work in difficult ground conditions.
The material handler has been designed for rugged work with additional guarding, grapple-ready hydraulics, a 6.5m straight boom, a 4.5m droop nose arm, a counterweight, and an elevating cab, which can be adjusted to a provide maximum elevated height of 2.5m.
The DX225MH-5 also has two arm cylinders for extra balance and more stability and lesser movement when using attachments such as grapples. To carry out demanding waste-handling applications, the machine has a maximum pin height of 11.7m, a maximum operating reach of 10.6m and a maximum working depth of 5.2m.
Forming part of the Doosan DL-7 Series of next-generation wheel loaders, the new DL320-7 features redesigned buckets offering up to 7% more capacity for easier and faster loading, as well as greater productivity.
At the ISRI event, Doosan will also be exhibiting a new wheel loader guarding package (factory-installed option) on a selection of models. The package provides additional uptime protection for Doosan equipment owners.