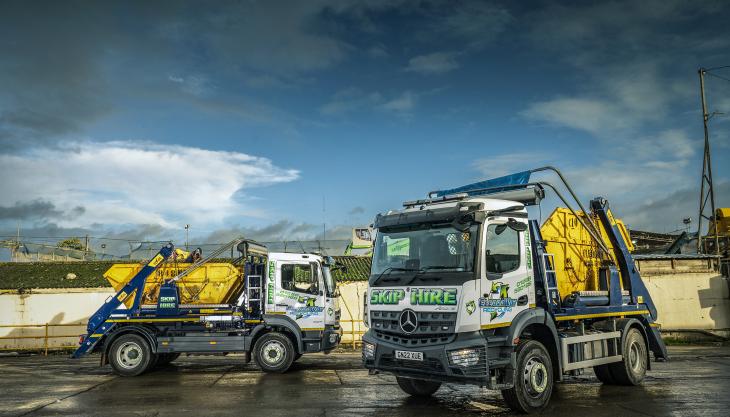 Waste-management firm expands equipment fleet with new 16-tonne Atego skiploaders
WASTE-recycling specialists Clearaway are maintaining their long tradition of operating Mercedes-Benz trucks with the addition of two brand-new 16-tonne Atego models from authorized dealers Sparshatt Truck & Van.
The new arrivals are construction-specification 1524K skiploaders, which have been fitted with short, ClassicSpace S-cabs and Hyva lifting equipment. Offering payload capacities of almost 7.5 tonnes, the 16-tonners were chosen by Essex-based Clearaway for their proven ability to deliver high productivity by collecting and transporting as much waste materials as possible.
The Atego skiploaders are powered by Mercedes' 7.7-litre engines that produce 175kW (238hp) and drive through six-speed Mercedes PowerShift automated manual transmissions.
Paul Whitehair, co-owner and founder of Clearaway Recycling, said: 'We're really pleased with our first 16-tonners. They're no bigger than the 13.5-tonne Atego, but each offers a very useful increase of approximately 2,400kg in body and payload allowance.
'Our Mercedes-Benz trucks have proved over the last 10 years to be exceptionally strong and reliable, which is crucial given the nature of our operations. Skiploaders will always get knocked about a bit, yet we still have a couple that are on 15-plates. I was going to let them go a little while back but haven't done so yet, because they're still good, solid trucks that continue to stand the test of time.'
The new Atego units join Clearaway's strong Mercedes-Benz fleet of 15 vehicles that includes: two 13.5-tonne Atego skiploaders and a pair of 7.5-tonne Atego models, soon to become a trio. The waste-management firm also operates six 18-tonne Arocs skiploaders and two 32-tonne Arocs eight-wheelers, one of which is a hook loader and the other a tipper truck.
The latest Atego skiploaders will be inspected and maintained under a Mercedes-Benz service contract by Sparshatt Truck & Van's Dartford depot. 'The Dealer's mobile technicians come to us to carry out the six-weekly checks and routine services in our own, three-bay workshop, which is obviously very convenient,' commented Mr Whitehair. 'For any major work, though, the vehicle goes over to them.'