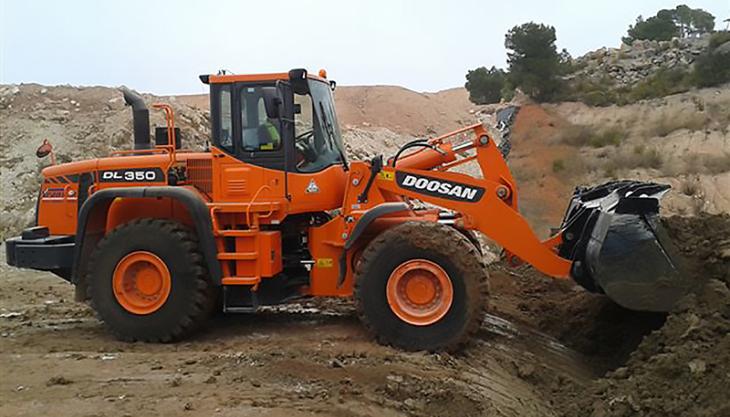 Spanish materials firm acquires new Doosan DL350-3 machine for 12h shift landfill operation
TRANS-Crispi are a family run business with more than 15 years of experience in concrete supply, excavation, container rental, waste management and transport. Based in Flix (Tarragona) in Spain, the company also runs its own concrete plant.
'One of our main activities is currently sludge extraction from a chemical plant located in the same town,' said Antonio Ortega, director of Trans-Crispi.' This material is extracted daily and placed in our containers, which is then transported to a landfill operated by us and where the material is dumped. We purchased a new Doosan DL350-3 wheel loader for this application.
'We previously had another brand of wheel loader, but we needed one with a higher bucket capacity for the sludge removal task, to fully optimize our work. We also needed a tougher machine because the work is quite harsh, with an average 12h day.  The new Doosan DL350-3 wheel loader was an excellent model in terms of bucket capacity, static tipping load capacity and standard equipment, which is very complete and technologically advanced.'
The DL350-3 machine is powered by a Stage IIIB-compliant, five-cylinder Scania DC09 SCR engine, delivering 202kW at 1,800 rev/min. It offers excellent performance and productivity levels, combined with ease of use, simple maintenance and appreciable fuel savings.  This gives the wheel loader a greater autonomy, resulting in higher productivity.
'We discovered the Doosan DL350-3 model through the local Bobcat area distributor, as we also have Bobcat compact equipment,' said Mr Ortega. 'The main qualities we noticed in the DL350-3 wheel loader were its robustness and fuel efficiency, which are highly valued by any business today.  The operator particularly appreciated the optimum visibility from the machine's cab and its breakout force.
Mr Ortega continued: 'The Doosan DL350-3 wheel loader will be working at our landfill and concrete plant, loading materials into containers and trucks or transporting them at our facilities.  It will also be used to perform tasks for our clients, such as the sludge removal job. In this case, our main mission with the wheel loader was to clear the sludge from a chemical plant producing dicalcium phosphate, which is being used in animal feed.  We remove more than 4,000 tonnes of sludge from this facility every month.'
Among the key features of the DL350-3 wheel loader are its breakout force, high stability and new and more efficient ZF transmission equipped with an automatic, new-generation LSD axle, five gears and a torque converter cut-off that is activated automatically between 2nd and 5th gear.
The Doosan wheel loader is also equipped with a closed-centre, load-sensing controlled hydraulic system, with central lubrication as a standard feature. In addition, there is a wide range of convenient, easy-to-use attachments with quick couplers, allowing the machine to perform a variety of applications.