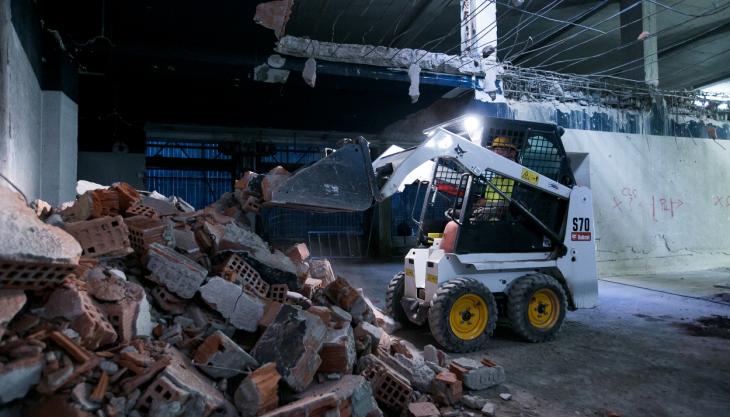 New Bobcat mini-excavators and skid-steers help take down multi-storey building in Milan
DEMOLITION contractors Seli Manutenzioni Generali SRL have taken delivery of a new fleet of Bobcat machines for careful, precise interior demolition work on a prestigious five-storey building in the centre of Milan, in Italy.
Owing to their small dimensions and low operating weight, two E17z mini-excavators and an E10z model were purchased for the meticulous dismantlement of the internal floors and other structures, paving the way for new stairwells and lifts shafts on the building redevelopment. One of the E17z machines was also used to demolish the roof to create new floor levels for the renovated building.
Other Bobcat machinery at work for Seli Manutenzioni Generali included two S70 skid-steer loaders tasked with handling and removing the debris, unloading it into self-tipping bins, which, in turn, were moved by a crane.
All five Bobcats have come to the fore on the demolition project. Dismantling a building at the heart of Milan indeed throws up a number of major challenges along the way. The work must be carried out with greater care without damaging the adjacent structures and without disturbing the residence, whilst in full compliance with environmental and safety regulations.
'We chose to purchase Bobcat skid-steer loaders and mini-excavators as we consider them to be extremely high performing and reliable,' commented Ivano Perego, sales manager at Seli Manutenzioni Generali. 'This allowed us to provide a guarantee to the customer that the job would be carried out with maximum efficiency and precision.
'Our operators are also completely satisfied with the quality of Bobcat machines and attachments in terms of their power, comfort and safety. We are very happy with the choice of Bobcat equipment and our relationship with Bobcat dealers DMO.'