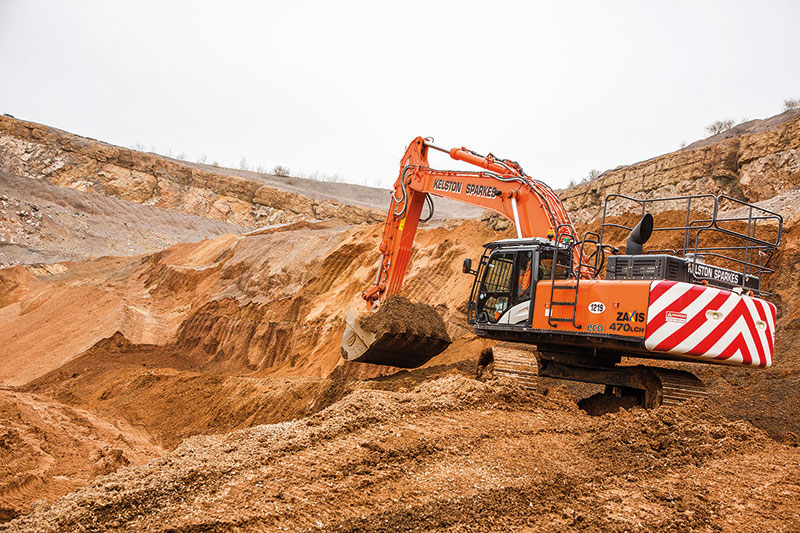 First published in the November 2014 issue of Quarry Management as Back on Track
Kelston Sparkes purchase seven new Hitachi excavators highlighting the company's reliance on Hitachi equipment for its core UK quarrying business
In the last 12 months Kelston Sparkes Group have bought seven new medium and large Hitachi excavators as part of a £1.5million machinery replacement and expansion programme, primarily for their burgeoning quarrying operations in south-west England.
The Bristol-based company has purchased two ZX210LC-5s, two ZX470LCH-5s, a ZX520LCH-5 and a ZX670LCR-5 in 2014. In addition, last year it added a ZX290LC-5 excavator and a ZW310 wheel loader to its fleet of Hitachi construction machinery, which already includes a ZX70, two ZX350LC-3s and a ZX470LCH-3.
'Our replacement cycle for excavators was 6,000h before the economic crisis,' explained Alan Sparkes, whose father, Kelston, established the company in 1952. 'We're getting back to this level, as the future is looking positive with several large construction projects due to start soon in this region.'
Mr Sparkes is co-owner of the privately owned company with his brother-in-law, Robert Stark. Kelston Sparkes have had a long and successful history, from their early days in agricultural contracting to their first steps into plant hire and their current status as a national contractor, with 167 employees and a fleet of 60 trucks, 40 excavators, 30 bulldozers, 12 mobile crushers and 20 wheel loaders.
Kelston Sparkes' core business is quarrying, supported by other projects including gravel pit, waste disposal, and flood- and sea-defence sites. Quarrying now accounts for more than half of the company's £20million turnover and it is estimated that Kelston Sparkes move more than 8 million tonnes of materials per annum.
Their biggest current quarrying operation is in the Mendip Hills, in Somerset, where the quarry owner relies on Kelston Sparkes for the movement of 90% of its materials (3.5million tonnes per annum). The company has between 30 and 36 machines on the site at any one time, all supplied with operators.
'Our strategy has been to stick to what we do best, namely bulk earthmoving,' said Mr Sparkes. 'We've never had so much long-term work, thanks to the excellent working relationships we have with our customers. One of our biggest strengths is flexibility – we can make quick decisions – and this helps us to build upon the strength of our partnerships. Our customers need suppliers who they can rely upon and the big priority is health and safety.'
Kelston Sparkes also enjoy strong partnerships with their suppliers – and Hitachi are no exception. They bought their first model (a UH09) in 1977 and Hitachi have featured on Kelston Sparkes' list of leading excavator manufacturers ever since.
'Hitachi have always been at the top of the market in terms of performance and reliability,' continued Mr Sparkes. 'They are the number one manufacturer, especially for machines over 50 tonnes – no one else comes close. We are very confident about the new Zaxis-5 range of excavators and they are already proving to be fantastic products.'
The most important criterion that Kelston Sparkes considers when buying a new machine is after-sales support. The company's workshop manager is influential in purchase decisions and the back-up he gets from manufacturers is vital to the company's entire operation.
'Reliability is the number one reason for buying Hitachi excavators,' added Robert Stark. 'Our customers have no patience for downtime – they need an immediate response from us and our suppliers. It's not just about technical support and genuine parts though, it's about the whole Hitachi support chain package, including Global e-Service and the Hitachi Extended Life Program [HELP].
'The information from Global e-Service is very useful for analysing fuel consumption and actual machine usage. It is company policy to take out HELP for a minimum of three years/6,000h. We focus on the total cost of ownership of each machine, with a full record of everything from the running costs to the resale value of each model.'
Brian Smyth, who has worked as an operator with Kelston Sparkes since 1978, said: 'I've been working with Hitachi excavators for more than 30 years. I started with a UH063 before moving on to an EX120 and the more recent Zaxis machines. The overall operation of the new ZX470LCH-5 is very good and it helps me to load our fleet of articulated dumptrucks efficiently.
'The ZX470LCH-5 is powerful, smooth and an excellent all-round package. I really like the layout of the machine from an operator's perspective. The cab has been well designed and the monitor is impressive – I use it to analyse information on performance on a daily basis.'