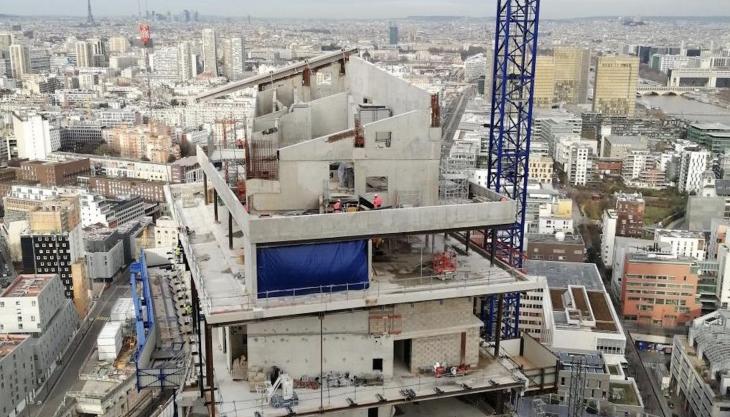 CEMEX supply 40,000 cubic metres of low-carbon concrete for spectacular leaning towers in Paris
CEMEX helped to overcome exceptional structural constraints during the completion of the Tours Duo in Paris, which were designed by eminent architectural practice Ateliers Jean Nouvel and built by VINCI subsidiary Bateg over three years.
The first of the towers reaches 180m in height and has 39 floors, whilst the second reaches 125m and has 28 floors. For this spectacular achievement, CEMEX delivered more than 40,000 cubic metres of concrete, including low-carbon formulations, and removed 42,000 tonnes or spoil materials via their multimodal transport network.
The multi-use skyscrapers presented huge technical challenges for the construction team as they are inclined at an angle of 5° (more than the leaning tower of Pisa) and were built on a very narrow site. The foundations, diaphragm walls and nine basement levels required specialist concrete to allow long, six-hour pours and high-quality facings.
Of the 40,000 cubic metres of ready-mixed concrete supplied from local CEMEX units, 25% was concrete for the foundations of the diaphragm walls, and 75% was civil engineering and architectural concrete for the elevations.
The client also required high-performance concrete for the pouring of a mega-beam with integrated cooling system to support the towers. All the concrete was designed with formulations to reduce the building's carbon footprint, in particular for the foundations.
In 2021, some 150 cubic metres of black decorative concrete was pumped for the construction of the terraces of the two towers, whilst fast-drying anhydrite screed was installed on nearly 2,000 square metres of heated floors.
Moreover, during the three-year build, CEMEX will have removed almost all of the spoil from the site – nearly 42,000 tonnes – via their multimodal logistics system.
CEMEX say the strong commitment of their technical teams helped ensure the success of this complex project, with excellent communication between various departments (commercial, technical etc) and the concrete manufacturing teams ensuring smooth and consistent concrete deliveries during long days and weekends.