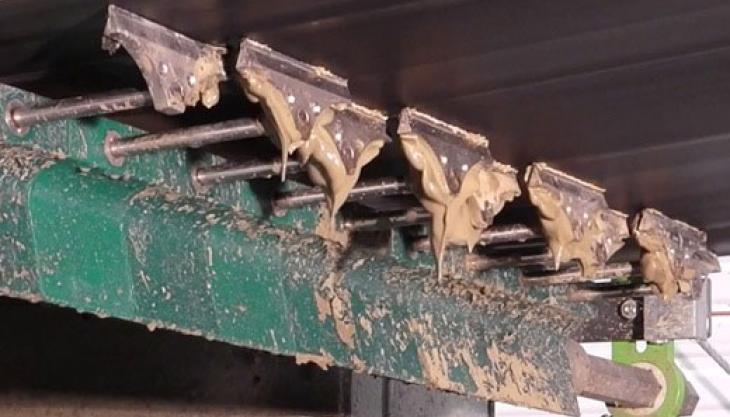 New range of conveyor belt cleaners said to operate in a different way to traditional belt scrapers
A NEW product which tackles the challenges of belt cleaning in a completely different way to traditional belt scrapers has been launched by ProSpare.
FE Schulte Strathaus & Co KG have been at the heart of changing the way conveyor belts are cleaned across Europe, but their ground-breaking new system has not been available in UK or Ireland until now.
At last month's Bauma exhibition, ProSpare were officially appointed as the sole distributors for Starclean belt cleaning systems in UK and Ireland.
Starclean conveyor belt cleaners are said to represent a huge leap forward in belt cleaner design. The separate Starclean blade segments are individually tensioned on to the belt using an ingenious 'twist-swing' design.
Optimum belt contact pressure is maintained as each blade segment automatically compensates for different wear rates independently of the others. The result is a gentle cleaning action which is more effective, protects belts and reduces blade wear rates.
Starclean's quick-release tensioning devices combined with a quick-change, slot-in blade design means in-house site staff can carry out maintenance in minutes, without the need to call in specialist contractors.
ProSpare managing director James Bullock commented: 'Through our close co-operation with TBK Group, we have been growing sales of conveyor components such as Spill-Ex skirt sealing, Friflow impact beds and Centrax belt trackers, but we were repeatedly being asked for belt cleaning solutions.
'Starclean completes our range perfectly and we now offer a strong one-stop conveyor belt solution. We are very pleased to have teamed up with one of the most respected belt cleaner manufacturers who offer a market-leading product which ideally complements our existing range.'
Starclean and ProSpare's other conveyor components will be on display on stand F7 at Hillhead 2016.