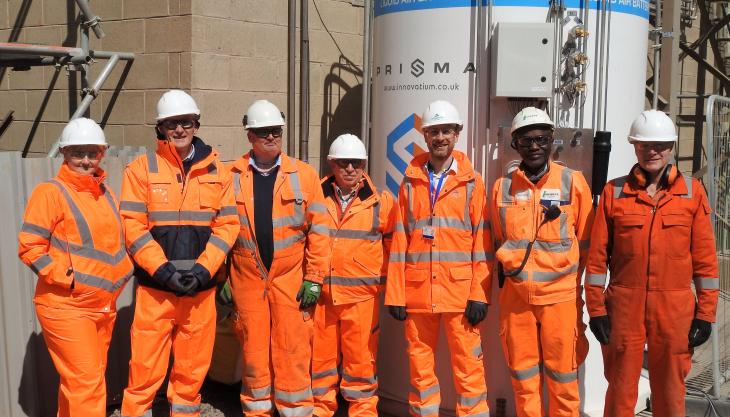 Ground-breaking liquid air energy storage demonstrator set to support Aggregate Industries' decarbonization goals

AN industry-first application of liquid air energy storage (LAES) energy-efficiency technology is now a live Industrial Energy Efficiency Accelerator (IEEA) demonstrator project at Aggregate Industries' Cauldon cement works, in Staffordshire.

PRISMA technology, which has been developed by leading Scottish low-carbon technology company Innovatium in partnership with Birmingham University, is said to be a potential 'game-changer' alternative to traditional compressed-air technologies.
Its developers say PRISMA (Peak Reduction by Integrated Storage and Management of Air) has the potential to play a significant role in the decarbonization of energy-intensive companies across a wide range of sectors, with early data showing that the technology can deliver up to 25% energy savings, as well as hours of back-up energy storage.

The PRISMA system installed on site at Cauldon cement works is the first fully operational deployment in a live customer environment. For Aggregate Industries, PRISMA is expected to make a meaningful contribution to the company's ambitious 2030 Sustainability Strategy.
A key element of this Strategy is to deliver a reduction in carbon emissions down to 500kg CO2 net/tonne cementitious (from a 2020 baseline), to contribute towards industry Net Zero targets. PRISMA is one of several pioneering energy-efficiency technology projects at the Cauldon site.
Innovatium's PRISMA technology is a successful recipient of Department for Business, Energy and Industrial Strategy (BEIS) funding under the Government's Industrial Energy Efficiency Accelerator programme, managed by the Carbon Trust.

This innovative liquid air energy storage technology stores energy in liquid air form to provide compressed air, allowing inefficient, partially loaded, variable-demand compressors to be turned off, thus improving the total system efficiency by up to 25%.
At Cauldon, the PRISMA system will bring together a latent energy cold storage tank, filled with a phase change material (PCM) to store thermal energy. Along with several off-the-shelf components, this forms a system that will work within Aggregate Industries' existing compressed-air network.
The integration of such equipment in an industrial setting, for the provision of compressed air, has never been attempted before.

The 'go live' of the PRISMA system at Cauldon was marked by an evaluation visit by representatives from BEIS and the Carbon Trust, and Innovatium have confirmed that data from the Aggregate Industries demonstrator project will be published this summer. 

Commenting on the deployment of PRISMA for the Aggregate Industries demonstrator project, Simon Branch, co-founder and chief executive officer of Innovatium, said: 'We are delighted to reach this major milestone which will underpin the next phase of our growth strategy.
'The project at Cauldon will [not only] give us valuable data on the performance of the system itself – but also 'real-life' evidence of the cost and carbon efficiencies that we believe are achievable.

'The evaluation visit by BEIS and the Carbon Trust is a great opportunity to demonstrate what we're doing here by seeing the kit in action – and to explain how our collaboration with Aggregate Industries is expected to deliver significant results.'

Innovatium have recently received £900,000 investment funding, led by Kelvin Capital, alongside co-investment partners Scottish Enterprise, which will support the continued development of PRISMA technology.

Paul McKinney, head of IEEA programme delivery at the Carbon Trust, said: 'Having overcome the challenges of building the PRISMA demonstration unit through the pandemic, we are excited that Innovatium have now commissioned the technology at this major, energy-intensive industrial site, and we are looking forward to seeing the results.
'This is a great example of applying an innovative technology solution to the longstanding problem of how to improve the efficiency of compressed-air generation in industry, which could have significant savings potential across many sectors.'

Kirstin McCarthy, sustainability director at Aggregate Industries, added: 'We are very proud to be the first partner to install the PRISMA system in an operational environment. Aggregate Industries are committed to transitioning to net zero, and supporting innovations like PRISMA is vital in helping us achieve that goal.

'We believe PRISMA can play a major role in addressing the 'energy trilemma' of managing energy efficiency, energy cost, and energy security, and we're confident that its installation at Cauldon will further prove its decarbonization credentials – a big step towards full commercialization of the technology.'