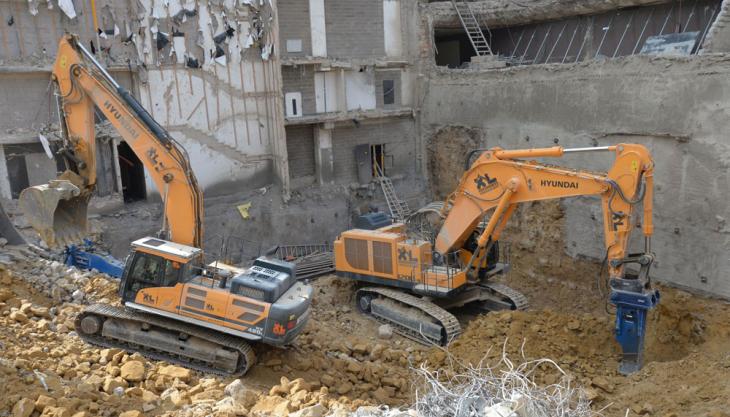 Luxembourg-based Démolition et terrassement XL Sàrl takes delivery of first R1200-9 machine in the continent  
HMB, the authorized Hyundai dealers for Belgium and Luxembourg, have supplied the first Hyundai R1200-9 excavator in Europe to Démolition et terrassement XL. The new 120-tonne machine has already been put to work on a major demolition site in the financial heart of Luxembourg City, where preparations are being made for the new offices of the Bank of China. 
Located at the junction of the Boulevard Royal and Rue Notre Dame, the large-capacity excavator, equipped with a five-tonne hydraulic breaker, is being used for breaking reinforced concrete foundations. The first task is to help complete a 35m deep, six-storey underground car park. 
Powered by a 567kW turbocharged diesel engine, the R1200-9 unit has been specially designed for heavy earthmoving, stationary digging and long-reach demolition duties. Standard features include double grouser shoes, but for this particular demolition contract, the machine has been specified with narrow shoes.  
The excavator boasts a state-of-the-art CAPO (computer aided power optimization) system to ensure optimum performance from the engine and two hydraulic pumps, thanks to three different power modes serving specific working loads. 
The Power option ensures maximum machine speed and power for maximum productivity. Standard mode provides reduced engine speed for optimum performance and improved fuel economy, while economy mode adapts flow and engine power to specific load conditions for maximum fuel efficiency and controllability.
The CAPO system also features auto deceleration and power boost. Inside the cab, a LCD display monitors engine speed, coolant and hydraulic oil temperatures and diagnostic error codes. 
The R1200-9 excavator has been developed to be as operator-friendly as possible, allowing the customization of engine speeds pump output idle speed and other machine settings, such as hydraulics pressure and volume for the attachments, according to personal preferences.
At the push of a button, the operator, for example, can select boom/swing priority and one of the power mode settings. The CAPO unit monitors the hydraulic functions and continually adjusts hydraulic flow to provide maximum performance and productivity. The Hyundai excavator comes with a 7,550mm long mono boom and 3,400mm long arm. 
Paul Verbiest, co-owner of HMB, commented on the deal: 'Carlos Alberto Rodrigues de Sousa, the owner of Démolition et terrassement XL, came to see us at Bauma in 2016, where we concluded the deal. Mr de Sousa was familiar with the Hyundai range and already has 12 existing machines in his fleet. 
'For this special project, he was looking for an excavator of substantial size to complete the task. What really convinced him was the combination of the quality and efficiency of the Hyundai machines, a competitive price and our excellent service and relationship with his company.'