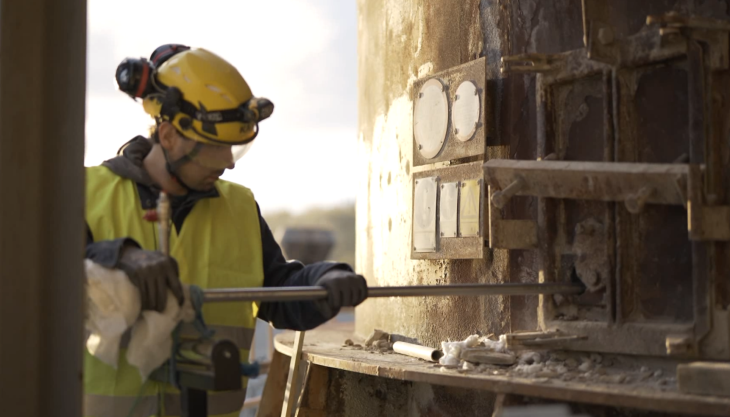 Collaborative project developing innovative technology to make cement production more sustainable
MANNOK's Cement division has hosted a team of senior student researchers from Denmark, who are part of an innovative project to make cement manufacturing more sustainable in the future. The students travelled to Mannok's cement plant to harvest data and analyse their newly developed technology.
Through the development of pioneering technology, the initiative aims to reduce fossil fuel usage and emissions in Mannok's cement plant, as well as others globally. The five-year project, which is in its third year, is entitled 'Process Technology for Sustainable Building Materials'.
A group of six senior student researchers from Technical University of Denmark, one of the three organizations involved in the project, conducted tests, took measurements and samples, and collected data while using their newly developed models on Mannok's cement plant.
The three parties involved in the mission to make cement production more sustainable are FLSmidth, Technical University of Denmark, and Rockwool. The project is co-funded by International Innovation Fund Denmark and FLSmidth.
The group of senior researchers were led by Lars Skaarup Jensen, FLSmidth's research and development specialist and project manager, who said: 'There are good synergies with this partnership, we all have different perspectives to add, and we will bring them together to actively solve the challenges in developing process technology for sustainable building materials.
'The students are receiving several benefits from this visit to Mannok's cement plant, but the most important part is the industrial experience. There is a significant difference between the lab and the ideal world, and through this experience, the students are understanding how complex the project is. It is not about fixing just one problem at a time; it is about linking everything together and getting the best overall process.
'Ultimately, the research will help Mannok and FLSmidth improve the alternative fuels firing in their cement plant to reduce fossil fuel usage and investigate more efficient ways of reducing emissions such as carbon dioxide and nitric oxide.'
The student researchers will take all the data, samples, and other observations collected over their seven-day stay on site, back to Denmark for analysis and further research, which will lead to adjustments in the technology. The student researchers will then return to the cement plant to follow up on the findings and retest the adjusted technology.
Expressing how important it was for Mannok to be involved in this sustainability project, Damian Reilly, cement plant process manager at Mannok, said: 'We are delighted that the university researchers, working alongside FLSmidth process and chemical engineers, have captured the data they required.
'We look forward to getting feedback on the research and, in time, welcoming back members of the research team to fine-tune the installed technology. We have worked with Lars and FLSmidth for many years, and during this time we have collaborated on a wide range of pioneering projects to make the cement industry more sustainable.
'We are extremely excited about this current project…which will make our cement production even more sustainable going forward and thus reduce our cement plant's impact on the environment.
'We have already made a number of changes in our cement manufacturing process to operate in a more sustainable way and we look forward to the completion of this innovative project, which we will be adopting to further reduce our use of fossil fuels and emissions.'