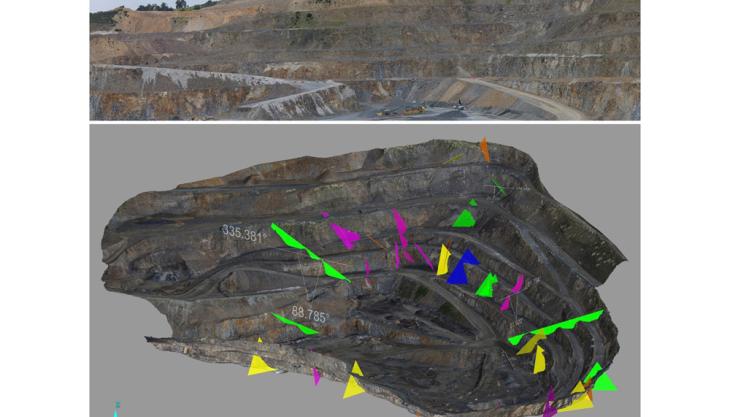 New Zealand consultancy using Maptek I-Site Studio and Eureka solutions for its geotechnical projects
AUCKLAND-based Gaia Engineers Ltd are using Maptek spatial modelling and geotechnical tools for their civil engineering projects. The company saw the need for sophisticated automated tools to help interpret geological and geotechnical features from large photogrammetry and Lidar point cloud datasets, which are available in Maptek's I-Site Studio. 
Incorporating drilling data to model geology for analysis of structures and failures is streamlined in Maptek's Eureka software, which provides an interactive 3D environment for visualization and modelling of drilling, geophysical surveys, maps, imagery and GIS data. 
'The Maptek workflows played a critical part in the purchasing decision,' said Simon Nelis, technical director of engineering geology for Gaia. 'In particular, we needed a workflow that allows us to rapidly produce accurate geological models of major structures, such as faults and folds, for assessment of global highwall stability. By combining large point clouds derived from different platforms, we can now produce up-to-date geological models for geotechnical analysis.'
He continued: 'Maptek software is the most efficient at handling these large datasets for geological modelling. Its ability to provide digital as-built records of geological conditions during excavation is critical for managing geotechnical risk and for geological and geotechnical input into the BIM model.'
Maptek's advanced visualization platforms are known to promote efficiency and agility for modelling geology, analyzing structures and surfaces, identifying dominant structures and trends, as well as assessing their impact on engineering projects.
'In the 16 years since Maptek began developing spatial modelling software for working directly on 3D point cloud scan data, the company has maintained an over-the-horizon view of industry needs,' said Jason Richards, global manager for Maptek I-Site laser imaging.
'With I-Site Studio, Maptek have developed the simplest and smartest software for generating valuable deliverables from laser scan data in wide-ranging application areas. Whether creating 3D CAD objects on screen or performing advanced geotechnical analysis, engineers can access all of the tools they need in this one package.'
Mr Richards added that users can work seamlessly with large 3D datasets on screen, converting complex 3D point clouds into dynamic 3D models. 'Everyone benefits from polished field-to-finish workflows,' he said. 'Consultants get more done and can take on more projects. Customers receive results faster and can effectively communicate with their project stakeholders.'