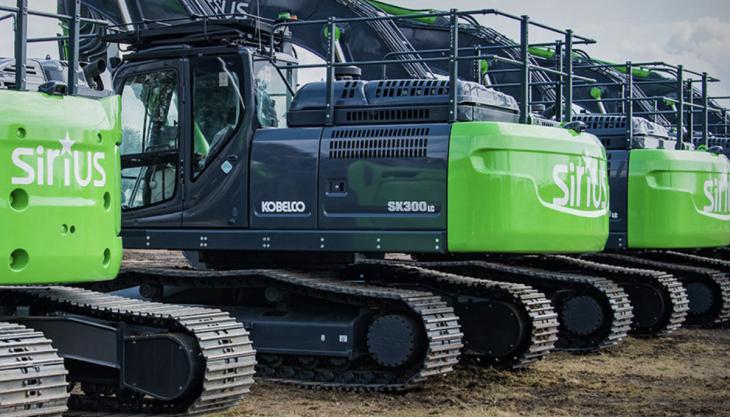 Company invests £1.2 million in new Kobelco excavators as part of fleet-replenishment programme 
THE Sirius Group, UK specialists in demolition, decommissioning, geotechnical and remediation services, have strengthened their mobile equipment fleet with a new batch of fuel-efficient excavators from Kobelco. 
Supplied by Molson Group's newly opened depot in Darlington, the four SK300LC-11 machines, a SK350LC-11 unit and a SK230SRLC-10 excavator have been purchased to help meet Sirius Group's business strategic goal to reduce their environmental impact and provide greater operational efficiencies and productivity.  
'We operate on a nationwide basis but are predominately centred around Yorkshire, the North East and the North West,' said Stuart Kirk, plant director for Sirius. 
'The fact that Molson have opened a depot in the North East, in addition to their established base in Warrington, means we essentially have a local dealer should there be any issues over the life of the machines. We think this will be a massive benefit to the Group as we rely on the service and back-up from dealers in our region.'
All six Kobelco excavators have been supplied in a full Sirius custom colour scheme, along with additional upgrades, including heavy-duty belly guards and side impact protection, Miller hydraulic couplers and MST buckets. 
For added protection, the SK350LC and three of the SK300LC excavators have been fitted with heavy-duty screen guards to protect the cab from damage when undertaking demolition works. 
Explaining Sirius Group's decision to go with Kobelco products, Mr Kirk commented: 'The Kobelco [equipment] meets our requirements for build quality with well-known and proven components. 
'Molson have delivered the machines with an extended three-year, 6,000-hour warranty and service agreement. This shows their confidence in the product and far exceeds the warranties we get from other brands, giving us the confidence in both the machines and the after-sales support from Molson.'