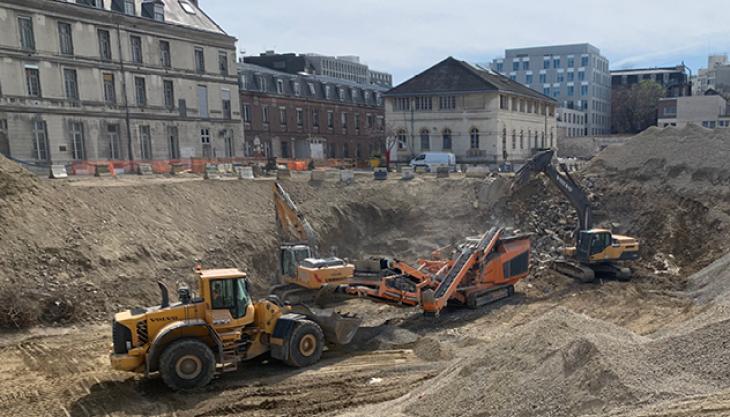 Track mobile crusher recycles inert construction and demolition waste as part of Paris eco-district project
OVER the last few months, a Rockster R1000S mobile impact crusher has been praised for its high productivity, efficiency, and eco-friendly benefits after equipment suppliers/distributors Koncass brought the machine to work on the partial demolition of the former Saint-Vincent-de-Paul Hospital in Paris.
Forming part of an ambitious project to build an 'eco-district' in the French capital, the scheme will see 60% of the old buildings in the hospital complex retained to preserve its architectural heritage, whilst the remaining structures will be demolished, paving way for a modern urban development.
According to Rockster, the R1000S tracked mounted crusher was chosen for its 'all-in-one' capability to undertake a variety of processing jobs, from recycling concrete, asphalt, and demolition debris to the processing of natural stone. The Rockster impactor was also chosen by the contractor/developer to meet the strict city regulations on dust and noise pollution.
The machine has crushed more than 4,000 tonnes of construction and demolition (C&D) waste down to 0-32mm end-material which is, subsequently, being used to construct the new environmentally friendly neighbourhood.
The R1000S is equipped with a vertically adjustable magnetic separator to prevent any blockages and a built-in Air Blower has been incorporated to efficiently remove light non-aggregates, such as plasterboard and wood parts.
Another key advantage of using the Rockster R1000S is its flexibility to be transported both on site and between sites. Grant Johnsonn of KoncassToo, commented: 'Loading and unloading is fast and no extra transport permits are needed. This means that the crusher can be put to work rather quickly and this is a huge advantage for our customers. As far as crushing goes, it simply gets the job done.'