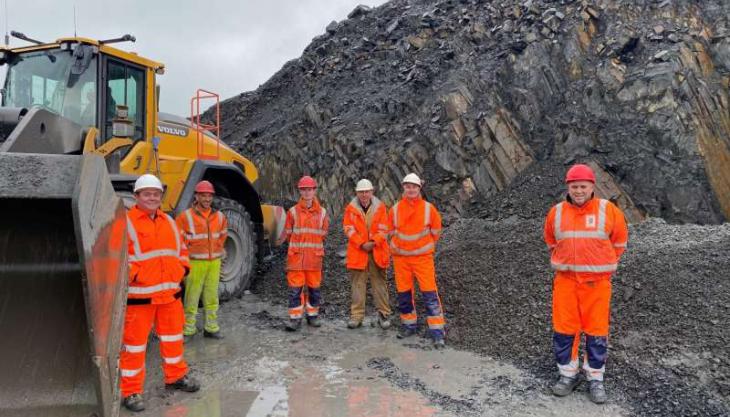 Family-run firm receives first EMPI Awards Occupational Competence Assessments awarded in Wales
H.V. Bowen & Sons were formed in 1907 by Harry Vaughn Bowen, who, in 1911, purchased 'Dwyrhiew Mill', near Newtown, which became the base for an agriculture and fuel business. In the 1940s Mr Bowen acquired Tan-y-Foel Quarry and started producing aggregates. The company was carried forward by his sons, and was then run for many years by his grandson, Haydn. Today, more than a century after it was founded, the company is run by Harry Bowen's great grandson, Mark Bowen.
Notwithstanding the wealth of knowledge and experience gained by the family-run company over more than 100 years, H.V. Bowen & Sons remain committed to continual improvement and recently undertook a programme of Occupational Competence Assessment (OCA) with EMPI Awards and MinTrain. In doing so, they became the first company in Wales to engage with this new, innovative, assessment of machine operator competence, providing assurance that their workforce is competent and fully compliant.
Lee Hankinson, manager of Tan-y-Foel Quarry, said: 'Returning to the UK after working overseas for a number of years, it wasn't particularly clear which route to a demonstration of competence would be the best fit for us. I was faced with a number of options and assessments, including various operator cards, vocational qualifications and also the EMPI Awards OCA.
'What we value as a business is EMPI Awards' no-nonsense, unambiguous and comprehensive assessment of competence. It is more than just a 'snapshot' of operator performance; it includes all aspects of the job function including past training and experience. During the process, we really benefitted from the experience and advice of assessor Mike Phillips, whose feedback was clear, consistent and motivating. We would readily recommend Mike, MinTrain and EMPI Awards Occupational Competence Assessment.'