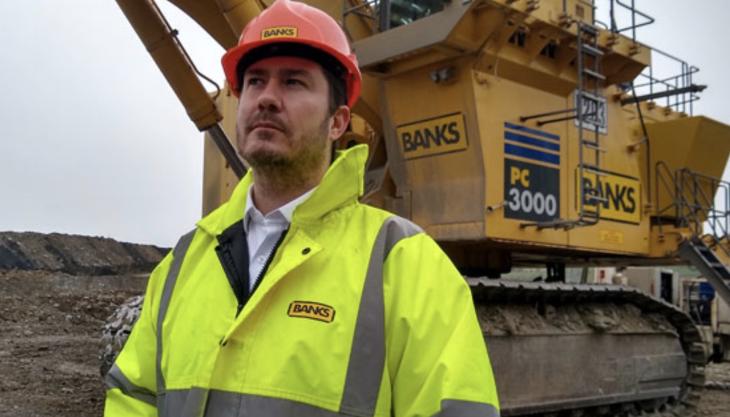 Company decides not to contest Secretary of State's rejection of surface mine planning application
BANKS Mining have confirmed that they will not be seeking to challenge the Government's rejection of their Highthorn surface mine planning application.
Last month, more than two-and-a-half years after an independent, government-appointed planning inspector recommended that the Northumberland scheme should go ahead, Banks were informed that Secretary of State Robert Jenrick had ruled against their plans.
But despite deciding not to take its case for Highthorn any further, the family-owned firm has reaffirmed its commitment to pursuing the proposed Dewley Hill surface mine, to the west of Newcastle, which is expected to come before the City Council's planning committee before the end of the year.
Gavin Styles (pictured), executive director of Banks Mining, said: 'In order to build back better, we need something to build with! We remain firm in our conviction that, while British industry still needs essential minerals like coal, fireclay and brickshale, they should be mined in the UK in the most environmentally responsible way possible.
'However, having carefully considered the Secretary of State's purely political and deeply disappointing decision to reject our Highthorn planning application, we have concluded that issuing a challenge to it would not be the right course of action.
'This has been a difficult conclusion for us to reach as we are hugely proud of the exemplary work of our highly skilled team, know that there will be substantial domestic demand for these minerals for many years to come and are only too aware of the impact that the Secretary of State's misguided decision will have on many lives and businesses across our region.
'We hear a great deal of government talk about 'levelling up' the regional economy, but it is the likes of ourselves and other North East employers that actually take the responsibility for creating the jobs that are central to achieving this goal, and we hope Newcastle City Council will support our continuing job-creation ambitions at Dewley Hill.
'At this time of unprecedented economic crisis, it makes no sense to hand much-needed North East jobs and supply chain investment to Russia, which will be delighted to meet British industry's continuing need for these essential minerals whilst simultaneously significantly increasing global greenhouse gas emissions.
'We remain grateful to the many people and businesses who supported Highthorn, including our colleagues and their families, our suppliers, customers and business associates, and to the politicians who continue to recognize the reasons why it is important for British industry to have locally based sources of minerals.'