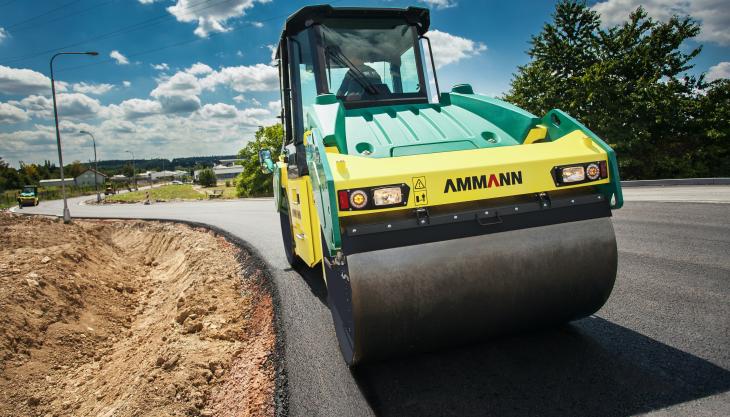 Emission and design updates key to new Stage V-compliant ARX 90 and ARX 110 articulated machines
AMMANN have released two new rollers that meet the world's strictest emissions standards and feature an updated design. The ARX 90 StV and ARX 110 StV articulated heavy tandem rollers are powered by the highly respected Deutz TCD3.6L4 engine and equipped with the most technologically advanced after-treatment system to meet EU Stage V and US EPA Tier 4f emissions requirements.
The machines are designed to be compact and drive vibration into the targeted materials and away from the operator. Each drum has an independent vibratory pump, and the rollers also feature a heavy-duty, two-stage vibrator with a variable range of frequencies. The tandem rollers are easy to control, featuring articulated steering with oscillation and a mechanism that allows work in crab mode up to 17cm on both sides. A differential lock is standard.
The cab is spacious, comfortable, and quiet. Operator-friendly features include a multifunctional display in the steering wheel, adjustable steering column, and control switches on the armrest. The rotating and sliding seat offers visibility with excellent sight lines to drum surfaces, edges, and spraying bars, and the operator can slide the seat beyond the machine contour for even better visibility.
Onboard diagnostics quickly alert operators to issues, whilst service points are easy to access. Both models are ready for installation of Ammann ServiceLink for the monitoring of machine functions, fuel consumption, required service intervals, etc. Customers also can install telematics solutions from other providers if preferred.
The optional ACEforce system is extremely intuitive to operate, with all information in a simple format on the central display. The system offers advanced functions for effortless and safe machine operation and compaction guidance. ACEforce also recognizes if the machine is experiencing a double jump. If so, the system immediately informs the operator of corrective measures to prevent machine damage.
An oscillation motion ensures the drums maintain constant contact throughout compaction. It uses less force but delivers both vertical and horizontal energy – essentially massaging the aggregates into place.
According to Ammann, oscillation excels on sensitive job sites, such as bridges or when working over sewers or utility lines. In addition, oscillating rollers can safely work on mats that are too hot or too cold for traditional compaction methods. Oscillating compactors also seal joints without damaging cold mats.