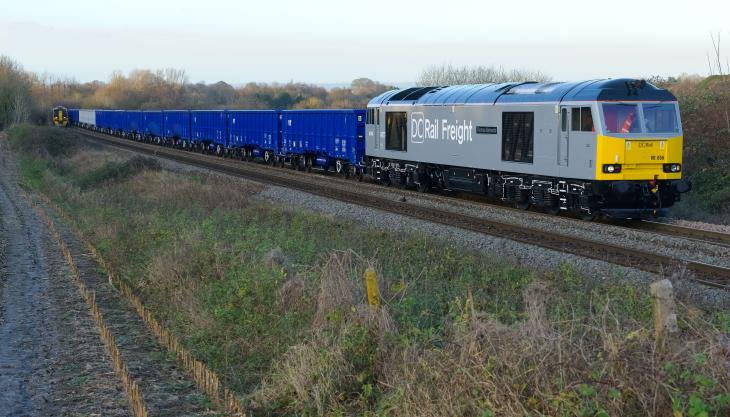 VTG Rail UK supplying innovative new box wagons for the movement of construction materials
VTG Rail UK have agreed to supply the Cappagh Group of Companies with 100 new box wagons for the movement of construction materials. DCRail, the Cappagh Group's rail freight operating company, is already using the first batch of wagons to convey recycled aggregates.

The new wagons have been designed specifically to optimize the movement of aggregates and construction spoil, with a design that maximizes durability with a minimum tare weight.
The design allows more material to be carried by each train and further improves the environmental performance of rail transport.
Design features in the new wagons include a high-impact floor that will reduce the risk of unloading damage and an integrated compact bogie braking system that minimizes maintenance downtime.

The wagons are key to providing efficient rail services for DCRail customers, including those that will use a new freight hub being developed near Wembley in North London.
With the capability to handle trains conveying more than 2,200 tonnes of material, the new hub is set to become one of the most efficient rail terminals in the capital.
The use of rail will reduce the environmental impact of construction supply chains with each train carrying the equivalent of 110 lorry loads and saving significant CO2 emissions per tonne.

Ian Shaw, sales and marketing director at VTG Rail UK, said: 'We are delighted to be working on this project and look forward to seeing all the new wagons in operation. The construction sector is seeing significant activity right now and we anticipate 2020 to be a positive year for rail freight as more companies look to shift material away from the roads and on to rail.'

'These brand-new, high-specification box wagons are optimized for the construction sector and are fitted with integrated brakes and track-friendly bogies. This means there is no vulnerable, and often less efficient, frame-mounted brake cylinders or rigging.
'This also helps us to implement our 'bogie exchange' maintenance regime which, using our float of spare bogies, minimizes wagon downtime and maximizes availability for our customers.
'As with all new VTG wagons, this fleet is fitted with our Connect GPS tracking system, allowing their location and condition to be monitored in real time. This purpose-designed system gives VTG and their customers a number of significant advantages in areas such as maintenance planning and resource utilization.'

David Fletcher, director of rail at Cappagh Group, added: 'This is a hugely exciting time for DCRail. In 2020 we will complete the delivery of our fleet of Class 60 locomotives and construction work at the new north London freight hub is now under way.
'The Cappagh aquamarine blue livery is being seen across the country and we are very pleased with the support provided by VTG on this project. The innovations in wagon design and expected high availability will allow DCRail to meet the demand for efficient rail solutions for the construction industry.
'Since the introduction of the first batch of wagons, payload on DCRail services has already been increased by 15% and we look forward to further increasing the amount of freight moved by rail.'