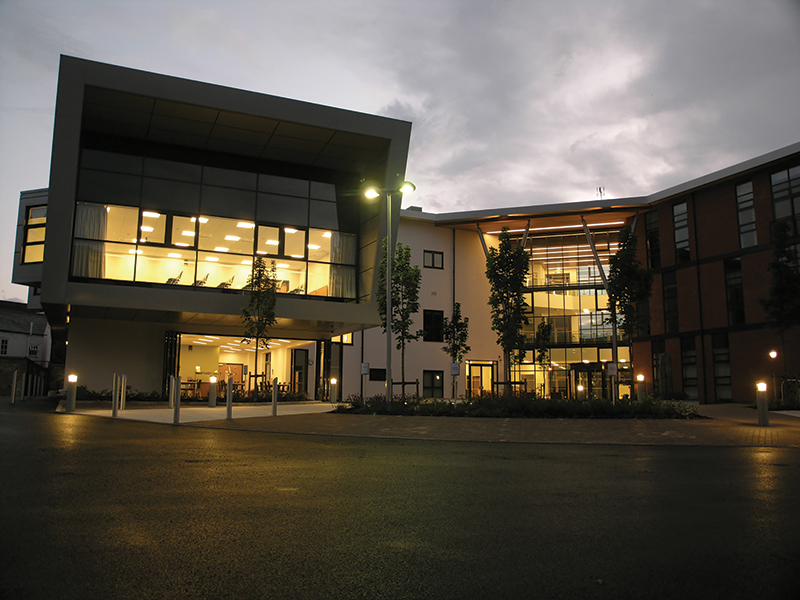 First published in the May 2014 issue of Quarry Management as To Professionalism and Beyond!
Honours Degree in Minerals Management launched at University of Derby Corporate
On Friday 31 January and Saturday 1 February 2014 the new Honours Degree in Minerals Management was successfully launched at University of Derby Corporate (UDC). The programme is offered by the Centre for Mineral Products Professional Development (MPPD) in partnership with the Institute of Quarrying (IQ) and is the result of several years' work to reintroduce a sector-focused honours degree qualification – something which has been missing from the industry's educational offer for almost 10 years.
Despite the recent recession, recruitment has been encouraging with 13 candidates blazing a trail from a range of international organizations, including Lafarge Tarmac, Hanson HeidelbergCement, Aggregate Industries, CRH, Roadstone Wood, Boral and the Arabian Explosives Company.
The two-year programme utilizes blended learning which sees candidates studying online as well as attending optional workshops and undertaking a range of industry-focused modules. These include: Advanced Extractives Technology; Operational Management; Financial/Commercial Management; and Resource Management. This extensive qualification concludes with candidates completing a substantial collaborative work-based project.
The launch commenced on Friday 31 January with an induction delivered by Mark Osbaldeston, head of the Centre for MPPD. Next, Julian Smallshaw, head of educational development at IQ, delivered an interactive session on mineralogy which introduced global mineral deposits and involved candidates discussing and examining mineral specimens by sense and under the microscope.
Colin Jenkins, President of IQ, delivered an excellent presentation on the subject of leadership in which he outlined the attributes of leadership, introduced leadership concepts in relation to 'born or taught' and then challenged the candidates in terms of engaging people, becoming a better leader and improving their own leadership styles.
Friday concluded with a session delivered by Workforce Development fellow Peter Revill on the subject of academic writing and referencing, which candidates found extremely  worthwhile and useful. Citing and referencing sources of information is extremely important at Honours Degree level. Mr Revill covered the basic requirements of several referencing models and then used a series of interactive problems to help candidates further understand the subject.
On Saturday 1 February candidates returned to the Enterprise Centre where Peter Kay, senior learning & development manager at Lafarge Tarmac, delivered a highly engaging presentation on human resource planning and development. He introduced the changing world of work and the shift to the 'Human Age', along with the challenges that the sector will face, before establishing the principles of human resource development and finally working with the candidates on the building of high-performance teams.
The candidates were then joined by John Pritchard, finance director of Sibelco UK, who delivered an extremely interactive and well-received session on financial accounting in business, during which he explained the role of accounting and finance, and the building of accounts and cash flow, before outlining the principles of financial accounting.
For the afternoon session, Mark Osbaldeston, head of the Centre for MPPD, set the candidates a leadership exercise which required them to research their most influential leader and answer a series of questions, such as 'did the candidates integrate any of the traits, ideas or ideals of their most influential leader into their leadership styles?' and 'did the candidates think that other people within their organization considered them to be influential leaders?'. The day culminated with the candidates delivering interactive presentations on their findings from the leadership exercise.
Feedback from the launch with regard to the subject matter covered and the range of industry and University-based presenters has been extremely positive and now candidates will be required to access the university systems to commence and undertake their online studies before the next optional workshop takes place on 9 and 10 May. Candidates will be expected to graduate in January 2016.
Mark Osbaldeston, said: 'These are exciting times; the lack of an industry-bespoke honours degree has hampered attempts to promote our sector as 'truly professional' and has stifled the educational and development aspirations of a number of truly exceptional people that work within it. I'd like to wish the candidates well with their studies and personally thank everyone who has been involved with the development and realization of the new honours degree, which is a great achievement for our sector that should be celebrated accordingly.'
Phil James, chief executive of the Institute of Quarrying, said: 'The launch of the honours degree is a landmark event for our industry and offers a fantastic opportunity for business leaders of the future to develop their knowledge and skills with the superb support of the new Centre for Mineral Products Professional Development. I applaud everyone who has embarked on this challenging programme and wish them every success for their studies and future careers.'
Martin Riley, managing director of Lafarge Tarmac's Aggregates & Asphalt business, added: 'My own career path saw me come into quarrying as a school leaver and work my way up to where I am today, so I understand how important continuous development and training is. In today's global market we are competing against many other sectors to attract and retain the best talent; therefore, investing in professional and degree-level courses like this is key to ensuring our industry is seen as an aspirational long-term career choice.'
Robin Gillespie from Hanson UK said: 'Studying this qualification will not only expand my knowledge and expertise, but will confirm my level of professionalism in what is seen by some as a 'low-tech' industry. Embracing technology and improving competencies is important at every level of our industry and is critical if the industry is to meet the demands of the future. The blended learning approach was a big appeal as this allows me to manage my career, family and working commitments towards this qualification.'
Arnold Marsden from Lafarge Tarmac said: 'The reason I chose to undertake the BSc programme is because I know that education broadens the mind, which is vital in tackling the pressures of today. Having this broad perspective will help me to achieve more in my role, and will hopefully result in a long and varied career.'