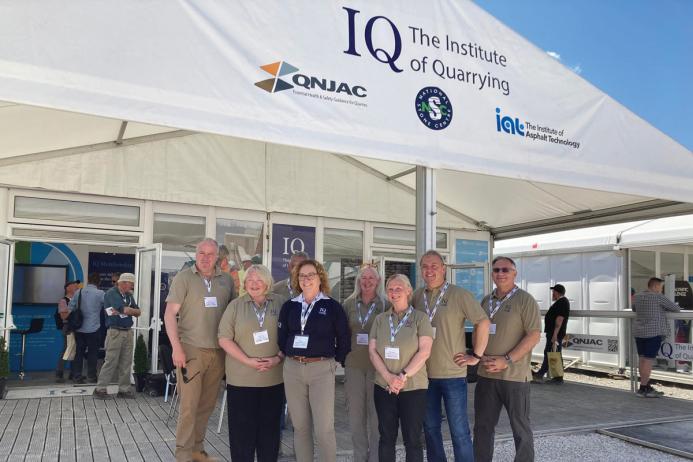 First published in the July 2022 issue of Quarry Management 
New tool helps mineral products professionals map personal skills and knowledge against the IQ Skills Wheel
Institute of Quarrying (IQ) members were amongst the thousands flocking to Derbyshire's Peak District for the return of quarrying's Hillhead exhibition, along with a whole host of industry partners, and a group of Year 10 students from a local school keen to learn more about the range of career opportunities in the mineral products and extractives sector. 
The IQ stand acted as a sector hub for visitors, with representatives of various industry partners joining IQ staff. These included staff from the Institute of Asphalt Technology (IAT), University of Derby Centre for Mineral Products, and members of the Quarries Joint National Advisories Committee (QNJAC) working groups. IQ members from the Derbyshire branch were also on hand to promote the value of membership to delegates, as well as explaining the important role of the branches in terms of technical presentations, community engagement and outreach.
Previous Hillhead exhibitions have been the bastion of people working in the quarrying and minerals extractives industries. But in a first for Hillhead, the Institute invited students from a local school in Chapel-en-le-Frith to find out about the careers that the industry has on offer to attract young people to join the sector. A group of 14 Year 10 students visited several stands, including Tarmac, Wirtgen Group, SMT, EPC-UK, Brokk UK, and CDE to understand the variety of roles available and diversity of opportunities on offer. The visit was delivered under the Minerals Matter initiative, an industry-led approach to raise the profile of the sector for career opportunities. 
The students had previously visited the National Stone Centre in Wirksworth to get an introduction to quarrying, which was then brought to life with a visit to Hillhead. Both school visits were supported by D2N2. Established in 2010, D2N2 is one of the largest Local Enterprise Partnerships (LEPs) in England, representing a population of more than two million people and with an economic output of over £42.9 billion GVA (Gross Value Added). It works closely with all local authorities to grow the area's economy. 
James Thorne, chief executive officer of IQ, explains: 'This has been an exceptional Hillhead. Not only has it been the opportunity to meet up with familiar faces after such a long break, but it has also reminded us why this is such a great sector to work in. The energy and enthusiasm were palpable and despite the worrying economic times, there was a huge amount of optimism for the future.
'And what better way to represent that than with the students from Chapel-en-le-Frith. Being able to show young people first-hand the incredible range of extraordinary careers that our sector has to offer must be a way forward for us all. It's only by opening our doors and sharing what we do with our communities that we will be able to attract the best of the best to join us and invigorate our industry for the future.
'But Hillhead was also about showcasing our improved offer for our value members. We launched our new Personal Development Wheel, which brings together the IQ Skills Wheel with our CPD recording tool. We have invested in professional expertise, as well as research and development, to make sure this is the value-adding benefit our members demand. And from the positive feedback we've received, we're keen to ensure all our members benefit from this new resource. 
'We want to encourage members to carry out their own self-assessment of their knowledge and skills levels against the IQ Skills Wheel. Using the results, they can then create their own personalized development plan in the areas they wish to develop in order to achieve career goals.'
IQ's Personal Development Wheel is the latest tool created to help mineral products professionals map personal skills and knowledge against the IQ Skills Wheel. 
IQ members benefit from support throughout every stage of their career, with access to a wide range of CPD opportunities that are tailored to the industry. Alongside this is access to internationally recognized qualifications and a network of professionals sharing accumulated knowledge and good practice. 
Sarah Fry, head of marketing and membership at IQ, says: 'I think everyone was glad to be back at Hillhead and to get back to some form of normality. It's only through shows like this that you get the opportunity to showcase the benefits of what we do face to face.
'The school visit was a personal highlight for me. This has involved a huge amount of planning from the exhibitors that took part, the school, D2N2, QMJ, and IQ. But the value of bringing young people into this type of environment is immeasurable. 
'I'd also like to say a big thanks to IAT, QNJAC, and the University of Derby Centre for Mineral Products. They show the brilliant things that can be achieved through cross-sector collaboration.'  
For further information about IQ, visit: www.quarrying.org