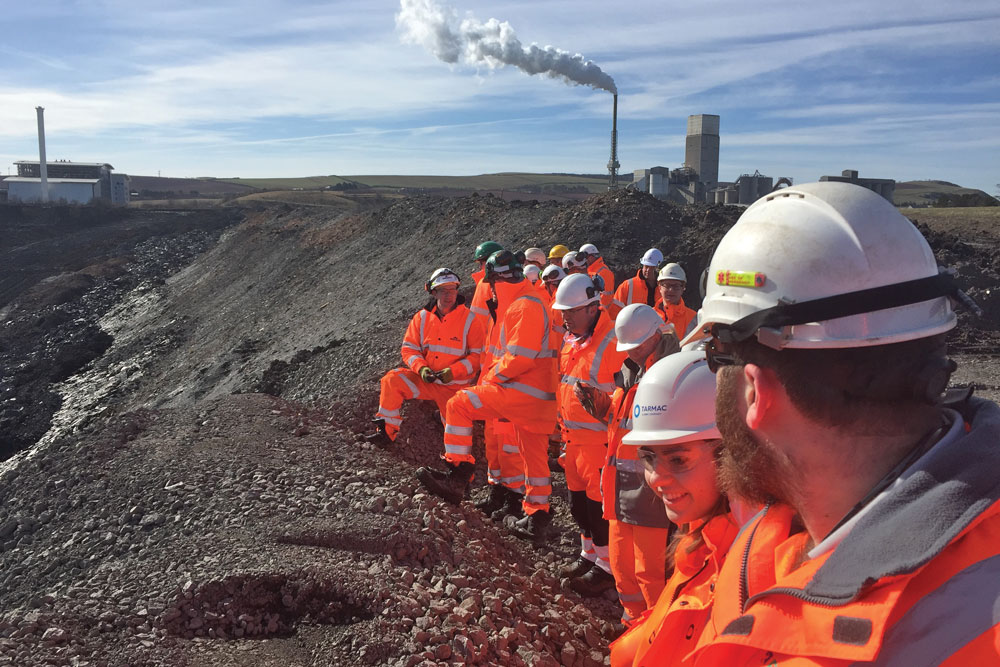 First published in the May 2018 issue of Quarry Management 
Sometimes the best way to learn about something is to see it in action. That is the thinking behind a series of informative, hands-on annual study tours organized by the Institute of Quarrying (IQ) and the University of Derby's Centre for Mineral Products. The latest tour has been hailed a great success.
Delegates on this year's tour, which ran from 19–23 March, were a mix of students currently studying various courses at the University of Derby's Centre for Mineral Products. The tour focused on sites around the north-east of England and the Scottish Borders. 
Julian Smallshaw, IQ's head of education, led this year's tour. He said: 'I've attended a number of study tours to date. They are a fantastic way of engaging with our peers across the industry, as well as expanding our understanding and appreciation of this rich and diverse sector. 
'As a passionate geologist, the study tours allow you to get up close and personal with a range of different products in a variety of environments. Plus, it's a good way of keeping an eye on the huge advances in extraction techniques, machinery, technology and production. All of these are changing at such a pace that I find I'm learning every time I step into a new quarry.'
The itinerary for the tour included visits to a number of sites in and around the North East operated by a mix of large multinationals and smaller, local independent quarry operators. On Day One, Tarmac's Dunbar cement plant was the first port of call. The site visit was hosted by Dunbar quarry manager Dave Hurcombe, who showed the group how Tarmac plan to extract materials from the quarry in the years ahead. 
A highlight for many was experiencing the operation of the site's large mobile plant, along with the processing of limestone for the cement plant. Martin Lillis, a performance manager with CRH Europe, the global diversified building materials group that owns Tarmac, said: 'CRH are passionate about continuous business improvement. This study tour provided a great resource for learning and gaining fresh insights into the operational nature of our business. There is no substitute for seeing operational excellence in practice across a range of sites.' The visit rounded off with an insight into the ongoing process of restoration at Dunbar. 
Dave Hurcombe said: 'Tarmac are keen to encourage links with educational establishments and, where practical, invite groups in to have a look around the Dunbar site. It was a pleasure to welcome this group to the quarry and to give them a practical insight into day-to-day operations. I hope what they saw here will bring their study of mineral products to life and show how important these materials are in everyday life.'  
The morning of Day Two saw the group head south to Hulands Quarry, between Bowes and Barnard Castle, in Co. Durham. The site is operated by Aggregate Industries and Andy Small is quarry manager. He said: 'Hulands Quarry is a relatively small-scale limestone extraction and asphalt plant, so we were easily able to accommodate the study group and give them an 'access all areas' site tour. That included showing them around our modern asphalt plant and its control room, as well as a walking tour of the quarry, taking in views of restored quarry faces.'
In contrast, the afternoon was spent at Dunhouse Quarry Ltd, part of WM Allison & Sons Ltd, a family-owned group of companies specializing in the stonemasonry industry. The company quarries and processes high-quality masonry stone at its factory in the north-east of England using the latest computer numerical control (CNC) stone-cutting technology, which allows production of complicated masonry designs.
Dr Rob Donnelly, senior lecturer and programme leader – Mineral Extractives Technology and Management (Hons) at the University of Derby's Centre for Mineral Products, co-led the tour. He said: 'The study tour represents a fantastic and unique opportunity for students to see at first hand facilities and processes from a whole range of mineral extractive and manufacturing operations. They gain direct experience of activities that might not necessarily form part of their studies or their day-to-day duties. There is really no substitute for them 'seeing things in the flesh'.  
'It also provides a great forum for students to interact with and learn from peers registered on the various courses and study pathways. The study tour is a part of our offering that we value very much and, as such, we are hugely indebted to our partners in industry who always make us feel most welcome when showing us around their sites.'
The morning of Day Three and the final day of the tour took in Tarmac's Barrasford quarry and asphalt plant at Hexham, in Northumberland. In the afternoon the group moved on to its final destination, Shotton surface mine, operated by the Banks Group. 
At 400ha, Shotton is the UK's largest surface (opencast) coal mine. The site includes the 19ha Northumberlandia landform park visitor attraction (see: www.northumberlandia.com). Julian Smallshaw said: 'This is an extremely busy site with constant vehicle movements in and around the mine. Our group spent some time watching operations from a viewing area, from which we could see 10 exposed coal seams, as well as old mine workings. We were also fortunate enough to be on site during a blast, which always gets the pulse racing.
'It's also a fantastic example of site restoration. Northumberlandia is a unique piece of public art set in a 46-acre community park with free public access and four miles of footpaths on and around the landform. It just shows what can be achieved with some creative thinking for sites – and Northumberlandia was designed and built before the start of coal production on site. Banks call this 'restoration first'.'   
One of the tour attendees was Ollie Hayward, a first-year foundation degree student studying at the University of Derby's Centre for Mineral Products. Based at Port Stanley in the Falkland Islands, he works at the islands' only quarry, Pony's Pass Quarry, located on East Falkland, approximately five miles south-west of Stanley. The quarry, which is operated by the Materials Section of the Public Works Department of the Falkland Islands Government, processes quartzitic sandstone. Mr Hayward, whose distance learning course means he studies online, said: 'The tour was a great opportunity to meet up with other distance learning students on the minerals extractives courses at the University of Derby and to compare notes and share experiences. 
'It's a 16,000-mile round trip to the UK but it has been well worthwhile. I've seen a real variety of operations and practices and had the opportunity to network with colleagues in the mineral extractives sector. 
'Pony's Pass Quarry is currently undergoing a replacement programme to improve both production capacity and product quality, to meet the islands' increasing demand for high-quality aggregates. I'll be returning equipped with new knowledge and ideas that I hope to apply.'
The tour finished with an evening presentation by Health and Safety Executive inspector Mike Tetley. Julian Smallshaw summed up: 'Over the week we experienced a huge variety of practices and processes across a range of extractive operations and sites. These are experiences that stay with you and enrich your understanding of the industry.'