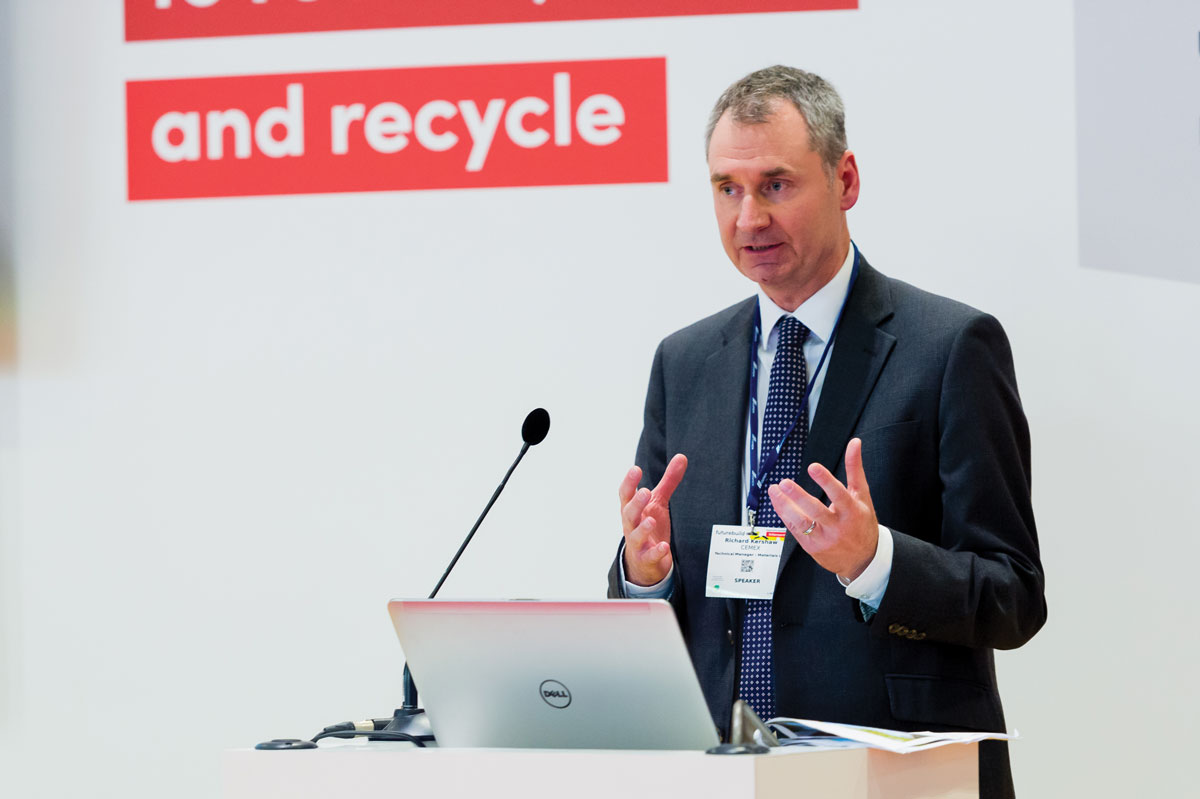 First published in the December 2021 issue of Quarry Management 
Richard Kershaw, technical manager with CEMEX UK, discusses why continuous improvement and collaboration in concrete technology is critical in meeting decarbonization targets on the roadmap to Net Zero
The concrete and cement industry has been committed for many years to continuous improvement and innovation. Whilst recent industry trends have highlighted exciting new and emerging technologies in areas such as digital construction, artificial intelligence (AI) and machine learning, for CEMEX, innovation and advancement in concrete technology means putting carbon reduction and collective action at the heart of all key decision-making processes. 
Climate action is by far the biggest challenge of our time and as such it requires new ways for industry to work together to develop technologies and embed solutions to meet the growing need and urgency. The cement industry is the cause of up to 8% of the world's CO2 emissions, which means we all need to continue to work hard to reduce this and adapt our operations to do so.
Concrete commitments  
In 2020, CEMEX, alongside members of the Global Cement and Concrete Association (GCCA), committed to producing carbon-neutral concrete by 2050, in line with global climate targets. The GCCA's subsequent 2050 Net Zero Roadmap now sets out in detail how collectively, in collaboration with built environment stakeholders and policymakers, the industry will fully decarbonize the cement and concrete industry to deliver net-zero concrete. 
In October 2021, forty members of the GCCA affirmed their commitment to net-zero concrete by 2050 and agreed to an ambitious intermediate goal of preventing 5 billion tonnes of CO2 emissions by 2030. This marked the biggest global commitment by an industry to net zero so far – bringing together companies from the Americas, Africa, Asia, including India and China, and Europe. 
CEMEX are proud to be part of the GCCA and determined to meet the collective targets. Furthermore, the company has also set its own aggressive goals for enhancing the sustainability of its operations and its products. 
Our Future in Action 
For many years CEMEX have proactively researched and maximized the opportunities available to invest in energy efficiency and the use of alternative fuels. We were the first UK manufacturer to introduce a range of low-carbon concrete products and are truly committed to expanding our use of renewable energy and increasing clinker substitution through alternative cementitious materials. 
CEMEX's company-wide 'Future in Action' Climate Action strategy now defines a global target to achieve 35% CO2 reduction by 2025 and 40% by 2030. This new goal is validated to the well-below 2°C scenario of the Science-Based Targets initiative. In Europe, the target is a 55% reduction by 2030 and CEMEX are the first company in the sector to align to the EU's aspiration to achieve this across all member states. 
Concrete technology 
CEMEX's most significant breakthrough in concrete technology in most recent times has to be the introduction of a ready-mixed concrete that is a CarbonNeutral product (in accordance with The CarbonNeutral Protocol). We were the first UK provider to bring a CarbonNeutral ready-mixed concrete product to market with the launch of our Vertua family. This range has been specifically designed to offset any residual CO2 to achieve net-zero CO2 and now provides clear evidence that we can all transition to a carbon-neutral economy, where concrete is an essential component in the development of climate-friendly urban projects, sustainable buildings, and resilient infrastructure. 
The company has also developed an innovative geopolymer binder solution at its Research and Development Centre in Switzerland. This solution has a reduced carbon footprint of up to 70% without sacrificing performance. The compensation of the remaining CO2 is achieved by participating in reforestation projects, among other initiatives.
Since its UK launch in 2020, the company has seen interest in and demand for Vertua steadily grow, with the product supplied to sites including new student accommodation at University of Warwick, Citu's Climate Innovation District in Leeds, and the 250 City Road luxury development in London. Vertua has also been successfully launched in many other countries worldwide and chosen for diverse projects ranging from a skyscraper in Marseille, France, and a mixed-use building in Colombia, to an apartment building in Bavaria, Germany, and an industrial warehouse in Mexico. 
It is expected that the requirement for low-carbon and net-zero concretes will only increase further as more and more construction companies face specific targets for the sustainability of their developments. Operating in a more environmentally friendly way is not a fad or a 'flash in the pan' but a vital and serious component of the work we all do. In particular, it is anticipated that COP26 will have a long-term impact on the way we all do business, and this will certainly become more apparent over the coming months.
We all know that the products we make are essential; the construction industry and indeed the wider world simply cannot function without concrete. It is a vital part of the crucial infrastructure that we use on a day-to-day basis, including housing, hospitals, roads, and railways. It is resilient and hard-wearing and can be recycled indefinitely, whilst also reabsorbing CO2 during its lifetime. It must not be considered an inefficient or unsustainable building material and so ongoing development is required to ensure it can minimize its burden on the environment while meeting increasing customer demand. 
Building a better future 
To achieve rapid and impactful mitigation of climate change effects, CEMEX believe the key is continuous innovation in global research and development. The company is strongly committed to a business model that benefits both the environment and society and continues to promote and encourage the use of sustainable products among its clients (developers, architects, governments etc) by investing in technical capacity building that generates the foundations of eco-friendly decision making, whilst enabling the building environment to transition towards the use of lasting and sustainable products. 
We are advancing cutting-edge research and developing a wide range of technologies and construction solutions that are contributing to the mitigation of CO2 emissions, enhancement of energy efficiency of buildings, improvement of resilience, intensification of long-lasting structures and the maximization of resources by circulating products, components, and materials in use at the highest possible levels at all times.
CEMEX's portfolio of concrete technologies, construction solutions, and global brands offers lightness, porosity, resistance, ductility, and several other unique features that fulfil the increasingly demanding performance requirements of sustainable buildings, structures, and cities.