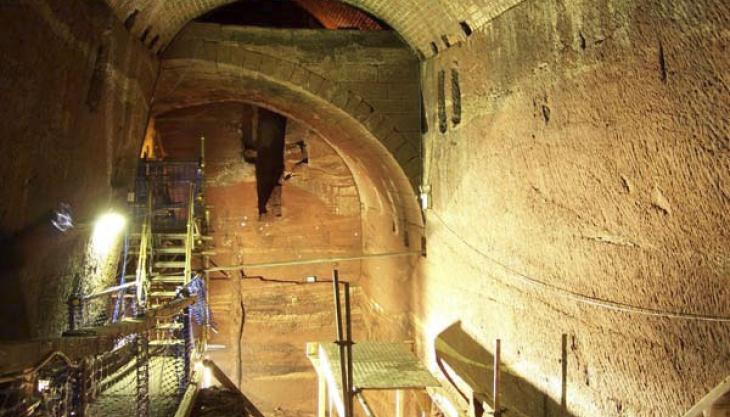 EIG conference to hear that Liverpool's famous tunnels may be an example of early quarry restoration
NEW research arguing that the famous Williamson Tunnels in Liverpool are actually restored quarries will be debated next month during a conference at Edge Hill University.
The investigations of lecturer Gerry Lucas, from the University's Natural Geographical and Applied Sciences Department, will be presented at the 17th Extractive Industry Geology (EIG) Conference, taking place from 5–8 September.
Situated in the Edge Hill area of Liverpool, the Williamson Tunnels comprise a labyrinth of what appear to be tunnels, which were built under the direction of the eccentric businessman Joseph Williamson between 1810 and 1840. They remained derelict until archaeological investigations were carried out in 1995. Since then part of the site has been opened to the public as a heritage centre.
The purpose of their construction is still not known and theories range from philanthropy to religious extremism. However, at the EIG conference the unpublished work of Gerry Lucas and David Bridson will be made public, claiming that they are an example of Georgian and early Victorian quarry restoration.
'We suggest that the tunnels were wildcat sandstone slot quarries providing dimension stone for some of the grand buildings of the expanding and rich mercantile Liverpool, and that Williamson saw an opportunity to develop land on the hill by building a system of arches that covered the slots and then provided the foundation for urban housing. In effect, his business acumen produced one of the earliest and most profitable forms of quarry restoration,' explained Mr Lucas.
These latest findings will be unveiled along with a number of other research papers and keynote presentations during the conference.
Mr Lucas, who has been instrumental in bringing this year's conference to Edge Hill University, continued: 'This is the key event for sharing knowledge, scientific research and good practice in the field of applied geology within the UK minerals industry. It is the first time we have hosted it at our campus and we have been chosen for our 'world-beating' facilities, commitment to sustainable development and our excellent professional links.
'By holding the conference here, it is a good example of how universities and the industry can work together to provide educational and potential employment opportunities, which will ultimately benefit our students.'
For further information and booking details visit: www.eigconferences.com