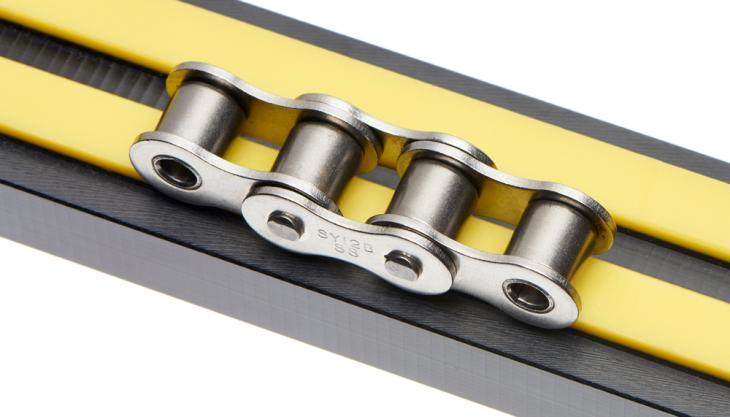 Components specialist to showcase specially designed scrapers, wear strips and sprockets 
INDUSTRIAL chain manufacturers FB Chain will be exhibiting scrapers, wear strips and sprockets that are helping recycling and waste-management customers all around Europe to maximize their conveyor uptime and profitability. 
As well as being major suppliers of conveyor/roller chains, sprockets, pins, bushes, rollers and attachments, the company has acted as design consultants helping customers to achieve the very best performance from their conveyor operations. 
For example, FB Chain's Inno scraper attachments, which are made from multi-laminated beech, were originally designed to combat the costly consequences of overloading experienced by recycling customers in Germany. 
When the customers' traditional steel scrapers (from another supplier) had buckled under pressure, causing irreparable damage to chains, sprockets and even chipping units and furnaces, FB Chain developed a range of wooden flights that simply snap when overloaded. 
While just as durable as the traditional scrapers, the FB Inno units are said to cause no damage to surrounding components. They are also simpler, quicker and cheaper to replace and at one tenth of the weight of traditional steel scrapers, FB Chains say their Inno scraper attachments significantly reduce stress on conveyor drives, not to mention energy running costs. 
Other notable products on show will be the company's polyethylene conveyor wear strips, which were first developed for a biomass customer in the UK to help better manage replacement schedules. With FB Chain's special design, two contrasting coloured plastics are layered over each other and as soon as the base colour becomes visible through the top layer, technicians will know that it is time to replace the chain guide. 
The visual cue acts as a convenient built-in wear indicator as engineers do not need to stop the conveyor to check the degree of wear to ensures it is replaced at the optimum time.
Just as these key innovations help to keep customers' conveyors up and running, so too are FB Chain's popular self-cleaning sprockets with induction-hardened teeth made from corrosion-resistant steel. The grooves around the edge of each sprocket prevent loose material from becoming trapped between the teeth, reducing maintenance requirements and increasing the life of the sprocket. 
'We don't just supply conveyor components but we also work together with customers to develop innovative solutions that overcome their individual challenges and boost conveyor performance, including efficiency, ease of maintenance, service life and total cost of ownership,' said Darran Green, sales manager for FB Chain. 
'We are very much looking forward to meeting with new customers at RWM and having some stimulating discussions about how to solve their conveyor problems.'