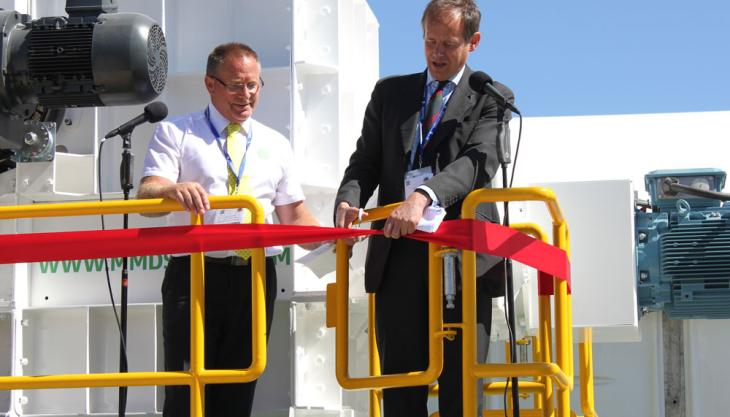 MMD, who celebrate 40 years of mining equipment innovation in 2018, have donated a revolutionary anti-personnel landmine clearance rig to The HALO Trust at the Hillhead 2018 exhibition.
The rig is destined for deployment in Zimbabwe, which remains one of the most highly mine-impacted countries in the world. Small plastic mines, which are extremely difficult to detect and densely packed, run for hundreds of kilometres, close to houses, schools and agricultural land. Clearing the minefields using traditional methods is a slow, painstaking job with a high level of risk. MMD's Sizer technology will allow land to be returned to farmers faster and allow children to stop walking to school on paths through minefields.
Five years in development, with generous support and contributions from ABB, Siemens, Westbury and Conveyor Units Ltd, the mobile Demining Sizer rig works by receiving excavated soil containing anti-personnel landmines: two MMD Sizers process material, ensuring that all mines contained in the soil are crushed or detonated. The unit's ability to handle a wide variety of soil types - from hard and abrasive to wet and sticky - and its remote control operation will remove human contact in the highly sensitive minefields in which The HALO Trust operates around the world.
James Cowan, CEO of The HALO Trust, said: 'We are very grateful to MMD for this generous donation. Once this machine is set to work, it will increase the area of contaminated land we clear each day in heavily mined countries such as Zimbabwe and Sir Lanka. In the places where we work, cleared land simply means more food for farming families and safer routes to school for children. MMD's Sizer technology will make a real difference to tens of thousands of people.'