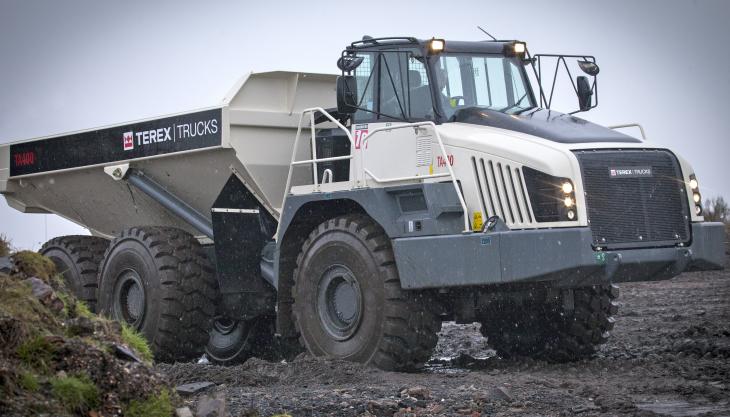 Porter Equipment to distribute Terex Trucks' Generation 10 ADTs in New Zealand and Australia
TO gain a stronger foothold in Australia and New Zealand, Terex Trucks have partnered with New Zealand-based dealers Porter Group for the distribution of the Motherwell-based firm's Generation 10 TA400 and TA300 articulated dumptrucks.
With new headquarters in Hamilton, Porter Group are expanding their operations with an enlarged fleet of machines to maintain their position as the largest dealer of rental and sales equipment for construction and associated industries in New Zealand.
The deal, which will allow Terex Trucks to strengthen their footprint in the Oceania region, will focus on Porter Group's sales arm, Porter Equipment.
'Porter Equipment are delighted to represent Terex Trucks across Australia and New Zealand as we share their commitment to the brand's success in the region,' said Darren Ralph, general manager for sales and marketing at Porter Group.
'Porter Equipment and Terex Trucks represent a formidable partnership in the supply and distribution of articulated dumptrucks. Terex Trucks have a strong pedigree in the design and manufacture of robust haulers, and Porter Equipment provide a distribution network in Oceania that dates back more than 70 years.'
Today, Porter Group have almost 40 branches in Oceania and distribute a range of ADTs, excavators, wheel loaders, rock crushers, screens, conveyors, stackers, stockpilers and other equipment to a variety of industries, including construction, quarrying, recycling, landfill and road building.
In addition to equipment sales and rental, Porter Group have subsidiary divisions for the supply of spare parts, servicing and repairs, transport, haulage, crane and access equipment hire, and financing options, as well as bases in Australia, Papua New Guinea and the US.
'Terex Trucks are excited to be part of this new journey of growth by partnering with Porter Group to serve the Australia and New Zealand markets,' said Clement Cheong, sales and marketing director for the APAC region at Terex Trucks.
'Porter Group's latest facility investment for their new headquarters in New Zealand is testament to the confidence they have in their business. The company is showing its customers that it has a commitment to continue providing the highest level of sales, parts, service, rental and financing solutions to the industry.
'With their extensive network of more than 35 branches in these countries, and their excellent reputation in the market for providing a total solution, we are confident that Porter Group will bring the same success story to Terex Trucks.'