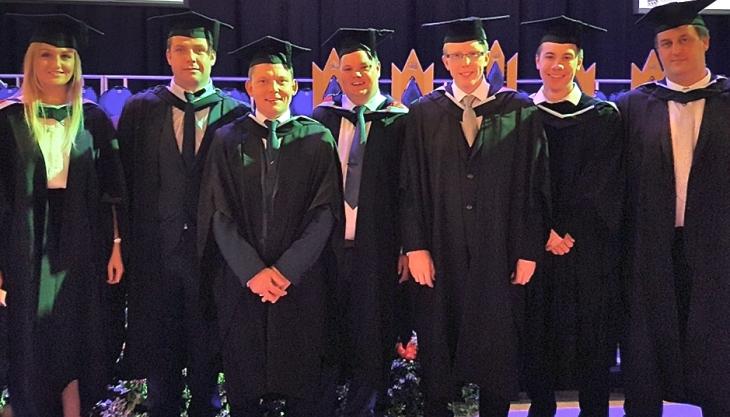 Seven employees gain Minerals Management foundation degree at University of Derby
SEVEN Tarmac employees have recently completed their final exams in the three-year Minerals Management foundation degree at the University of Derby, achieving six distinctions and one merit between them.
The successful seven, who are based across Tarmac's UK operations, say completing the degree course has helped them progress their careers with the company.
One of the students, Dannika Bannon, began her career working on a weighbridge and is now Tarmac's quarry manager for Bestwood and Calverton quarries.
She said: 'We are all absolutely delighted to have achieved the results we have. It's very rewarding to see everyone's hard work pay off and a huge thanks to the business who supported us to complete these degrees whilst also performing our day to day roles.'
Robert Kelly, assistant quarry manager at Tarmac's Howick Quarry, explained how the course had helped him develop in his role: 'Over the course of my degree, I've been able to use the knowledge acquired to progress from weighbridge supervisor to assistant quarry manager within two-and-a-half years.
'I'm really grateful to have had the opportunity to take this course, because it's really helped me develop and progress my career. It's an internationally recognized qualification, so it's great for my future aspirations.'
He added: 'I now have the option to continue to obtain an honours degree which, undoubtedly, would allow more possibilities to open before me in the future.'
The Minerals Management degree is a three-year distance-learning programme developed for the quarrying and minerals industry by the University of Derby, to support the education and development of future managers and professionals within the industry.