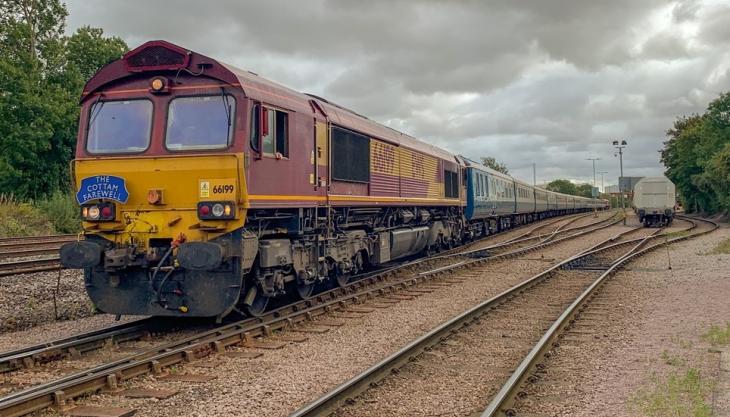 Mountsorrel Quarry railhead at Barrow-upon-Soar adds to the excitement for railway enthusiasts
RAILWAY enthusiasts from across the country enjoyed a one-off treat last weekend, when Tarmac gave special permission for UK Rail Tours to run a charter train, The Cottam Farewell, into their Mountsorrel Quarry railhead at Barrow-upon-Soar, in Leicestershire.
With support from railhead manager Jonathan Norman and Deutsche Bahn's local operations manager, Richard Lockley, this normally inaccessible stretch of track was made available to the specially chartered passenger train running north from Clapham Junction, in London, to Cottam Power Station, in north Nottinghamshire.
The charter run was held to mark the closing and decommissioning of the iconic energy-generating facility, after more than 50 years of operation. The rail enthusiasts on the special charter visited several 'freight only' branch lines, including the Tarmac rail sidings at Barrow-upon-Soar.
After some careful planning, risk assessments and collaboration between Tarmac, DB Cargo, Network Rail and UK Railtours, the train successfully passed through the site at 10.30am last Saturday morning, travelling at about 5 miles/h – much to the delight of the several hundred rail enthusiasts on board.
The special train exited at the north end of the Barrow-upon-Soar railhead, which is very rarely used by freight trains as it is a one-way junction heading north only.
In recognition of Tarmac's support for this unique tour, UK Railtours made a £500 donation to a local charity that is raising funds to provide cancer care for children. The donation was made in the name of Tarmac and all the Mountsorrel staff, particularly in the rail distribution department.
Jonathan Norman, newly appointed rail-loading manager at Tarmac's Barrow-upon-Soar railhead, said: 'This was a unique opportunity for Tarmac to work with our rail partners DB Cargo, Network Rail and UK Railtours, to provide a novel opportunity for rail enthusiasts to visit previously unexplored territory.
'This is likely to be a one-off event and we hope the rail enthusiasts on board the 'Cottam Express' enjoyed their day out.'