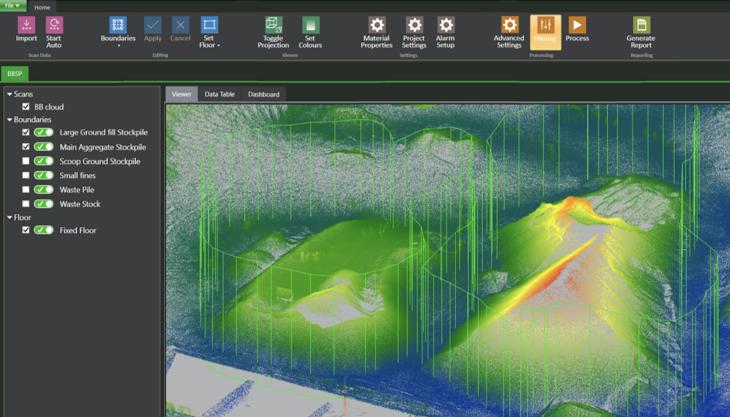 New GeoSLAM solution allows creation of high-density 3D volumetric models within minutes

GLOBAL 3D mapping and monitoring specialists GeoSLAM have announced a new innovative product that allows mine and quarry operators to quickly and easily build high-density 3D volumetric models within minutes.

GeoSLAM Volumes is an end-to-end way to calculate stockpile mass, instantly turning stockpile point cloud data into actionable 3D information for quick decision-making. This is achieved using the company's hand-held Zeb Horizon SLAM (simultaneous localization and mapping) scanner, which can be utilized on foot or with an unmanned aerial vehicle.

Using lightweight and easy-to-use scanners, the innovative solution can capture and calculate complex data, such as the weight and bulk of stockpiles, up to 10 times faster than traditional tools.
GeoSLAM Volumes allows volume calculations to be calculated as frequently as required at all stages of the supply chain, without disruption to site activity or compromising employee safety.

Designed for use in mines and quarries, but also suitable for use in other sectors such as recycling centres or ports, GeoSLAM Volumes' fully mobile technology is adaptable for untrained staff to use in any environment. In addition, the technology does not require GPS, thus opening up hazardous or hard-to-reach areas that are ordinarily off-limits using traditional surveying methods.

Matthew Bester, GeoSLAM's mining product manager, said: 'GeoSLAM have a long-standing pedigree around the world in the mining and quarrying industry and we're delighted to announce our latest solution to save time and reduce costs for mine operators.

'GeoSLAM Volumes has been designed to democratise the laser scanning process in the sector. The beauty of our technology is that anyone can pick up our scanners without any previous training or understanding and have accurate, actionable data at their fingertips within minutes.

'We know that when companies are paid by volume, the need to deliver highly accurate measurements for 'just in time' supply chains is critical. Any mistakes can lead to delays, disputes or lost revenues, but we hope that GeoSLAM Volumes will enable mining professionals to manage inventories quickly, frequently and accurately, so they can focus on other areas of their jobs.'

Utilizing GeoSLAM's RobustSLAM (simultaneous localization and mapping) algorithm, GeoSLAM's Zeb Horizon scanner was launched in 2018. It weighs just 1.3kg and can scan 300,000 points per second at a range of 100m with a relative accuracy of between 1–3cm.