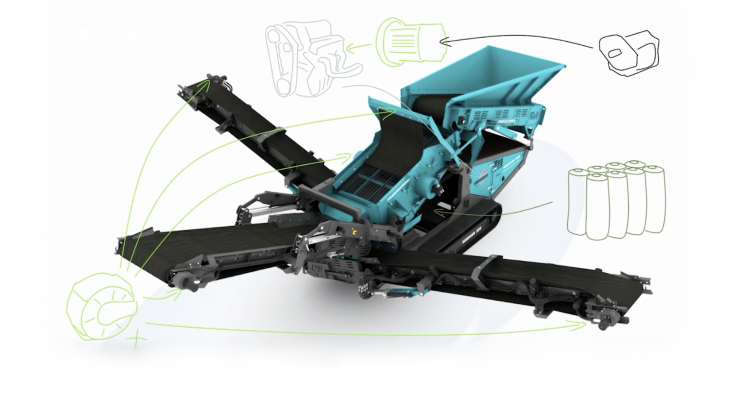 Powerscreen have been testing a brand-new concept product – the Eco-Warrior battery-powered screener
POWERSCREEN are responding to the industry's decarbonization challenge by providing solutions that work towards minimizing environmental impact and delivering greater sustainability, including a brand-new concept – the Eco-Warrior battery-powered screener.
Electrification, including hybrid diesel/electric models, is currently a key focus of Powerscreen's decarbonization strategy.
Working closely with automotive technology and utilizing top-of-the-range, hyper-efficient drives and intelligent control systems, the Eco-Warrior battery powered screener has been designed to deliver the powerful screening action that Powerscreen machines are renowned for, whilst being a self-charging or plug-in model that features a simple, quiet engine with no after-treatment requirements.
According to Powerscreen, the required engine size has been cut in half compared with the diesel hydraulic unit, whilst the battery pack can provide emission-free running or give a power boost.
Product and applications manager Neil Robinson said: 'To the best of our knowledge, this is the first battery-powered screener in the world and has been clocking up hours of testing since it was built in 2019. It still delivers the powerful screening action that Powerscreen machines are famous for and we are now exploring taking it from concept to mainstream.'