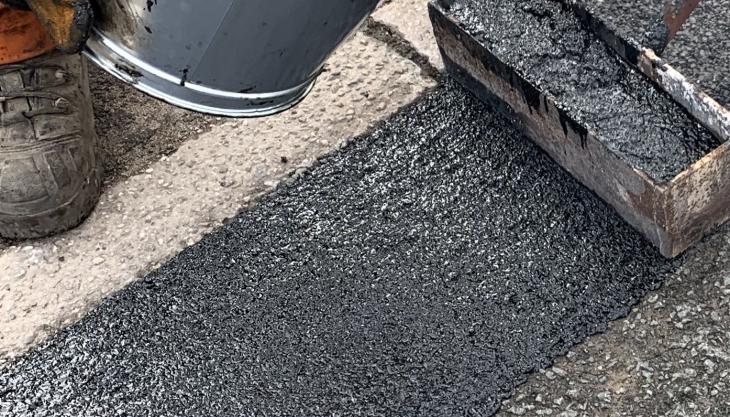 Innovative rubberized road repair technology set to save local authorities time and money
FOLLOWING the Chancellor's £2.5 billion commitment to potholes in the recent Budget and with many local councils now aiming to become carbon neutral by as early as 2030, Sheffield-based material engineering company Roadmender Asphalt is launching a new breed of road repair materials which, it says, are greener, faster to install and less expensive than traditional asphalt.
Unlike traditional methods that require potholes to be cut out and refilled with asphalt, which is time-consuming and expensive, the new rubberized repair material, known as Elastomac, is poured into the pothole as a hot liquid that forms to the shape of the hole and welds itself to the existing road.
Roadmender Asphalt say the benefit of this process is that where traditional repairs often fail when water penetrates through the edge of a repair and then freezes, Elastomac, which contains around seven end-of-life waste tyres melted into every tonne, is applied as a molten liquid that fills and then forms a flexible waterproof membrane over the potholes, covering the edges and locking out any potential for the ingress of water.
Harry Pearl, chief executive officer of Roadmender Asphalt, explained: 'Having been through 10 years of austerity, councils have naturally gravitated towards innovation as the only viable way to safeguard their road assets.
'As part of this they have set up knowledge-sharing hubs and innovation-funding initiatives that encourage the development of new materials and working methods aimed at driving down costs and improving efficiency.
'Roadmender Elastomac is a by-product of this drive for innovation that has ultimately led to the creation of a new road repair system that is faster, less expensive, uses 90% less virgin material than traditional repairs and has the ability to recycle hundreds of thousands of waste tyres a year in the process.
'From a health perspective, the use of these new flowable reinstatement materials also eliminates any hand-arm vibration and airborne dust issues traditionally caused by saw cutting and jackhammering out potholes.'