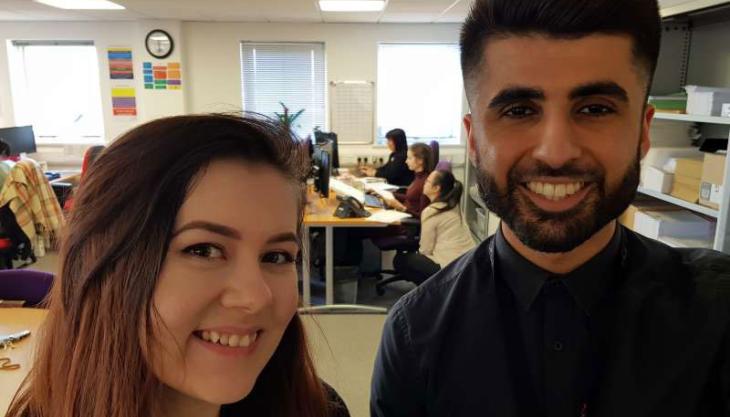 Practicing what it preaches, two MPQC apprentices land full-time roles with the organization
THE Mineral Products Qualifications Council (MPQC) is not only an expert in apprenticeships in the mineral extractives industry, but also uses apprenticeships itself to recruit new talent.
MPQC has apprenticeships at its core with each department having a direct influence on these increasingly valued qualifications: MP Futures helps to develop apprenticeships for the extractives industry and, to date, has brought five different types to market; MP Skills, in turn, acts as a training provider for apprenticeships in partnership with the University of Derby; and MP Awards delivers end-point assessment (EPA) for apprentices as part of its remit.
Almost 1 million people participated in an apprenticeship in England in 2018 and, as the Government's Fire It Up campaign has demonstrated, these qualifications have moved on from what they used to be and are now an exciting option for both the apprentice and the employer.
Apprentices now can be aged between 16 and 100+ and the apprenticeships they undertake are aimed at not just entry-level employees, but anyone who wants to further their career; the highest level of apprenticeship (level 7) is the equivalent of a master's degree.
Employers with an established apprenticeship programme have reported that their productivity has increased by 76%, whilst 75% of those surveyed found improvements in the quality of their services and products. Moreover, employers can get additional help with funding an apprentice from the apprenticeship levy.
In addition to acting as a training provider for apprenticeships, MPQC, which has just 44 staff, practices what it preaches and employed two apprentices in 2018, both of whom have now been offered full-time roles with the organization.
Lucy Preston, who worked for MP Awards as a vocational qualification assistant administrator while she completed her Level 2 apprenticeship in Business Administration, found this route really appealing.
'I was at a job I didn't like so I tried to find other admin jobs, but because I didn't have the experience they wouldn't take me on,' said Lucy, who completed her apprenticeship earlier this month. 'I saw this apprenticeship and thought I'd give it a go, and now that I've done it, I'm glad because I've got more experience, knowledge, and skills.'

For Isaac Azim, who MPQC hired to work in MP Skills, the apprenticeship represented more flexibility and control over his career than more traditional routes.
'University was an option, but I wasn't really sure what I wanted to study,' he said. 'I heard about apprenticeships from a few places and started researching them. I found the MP Skills apprenticeship through an open evening and a few days later I had an interview.'
Now that their apprenticeships are complete both feel ready to explore further opportunities.
'The apprenticeship for me is a foundation for my future career,' said Isaac. 'I'm more confident as a person now that I've finished the apprenticeship and I'm a lot more skilled, especially in an office environment.'
One of the benefits of this type of work-based qualification is the variety of different skills apprentices are exposed to, and for Lucy Preston, completing the apprenticeship has shown her where her true passion lies. 'I find marketing really interesting and I'm keen to further develop my skills,' she said.
With both MPQC apprentices now in full-time roles with the business, plans for two more apprentices are beginning to take shape in what has become a valuable recruitment strategy for the organization.