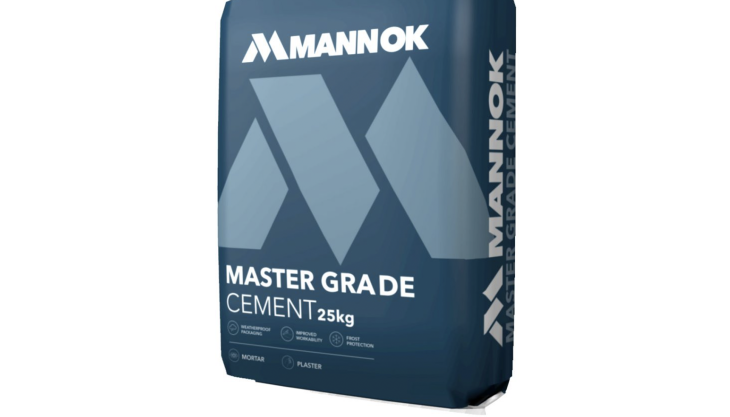 Exclusivity deal with National Buying Group extended for three years under new Mannok brand
HOT on the heels of the announcement that Quinn Building Products are to rebrand to Mannok in the coming weeks, the company has signalled its commitment to the long-term relationship with GB merchants and key buying groups with the extension of an exclusivity deal with National Buying Group (NBG).
The deal will give NBG's merchants exclusive access in the GB market to the company's Master Grade Cement until the end of 2024, extending the current partnership by three years. The exclusivity deal with NBG was first agreed in 2018 when Master Grade Cement was launched to market, and was initially extended in 2019 to run until the end of next year.
The further three-year deal strengthens the company's relationship with NBG and its merchants at a time when the cement will be sold under the new Mannok brand.
Commenting on the announcement, Quinn's GB sales and marketing director, Lee Gillman, said: 'Today's announcement is a very clear signal of our intentions going forward under the Mannok name.
'We will bring with us everything we do best, which means we will continue to offer quality products and service to our customers, and demonstrate real commitment to the merchants who are key to our company's success, through strong working partnerships with bodies such as NBG.
'We're delighted to make this commitment with NBG, who have played a key part in the increased sales of cement we have experienced since launching our extended cement range in 2018. It's been a fruitful partnership for all involved, and one which we're very happy to continue for a further three years.'
NBG's Bob Fleetwood commented: 'This is positive news for our members, who have been very happy with the exclusivity deal to date, and will welcome a further three-year extension. They're very happy with the Master Grade Cement product, which has proven to be very popular with customers, and also with the service offering from the Quinn team.
'It's an exciting time for Quinn as they rebrand to Mannok, and we're delighted to support the move and to be part of the journey. We're confident we will see more of the same energy and innovation, and look forward to a continuing successful partnership.'