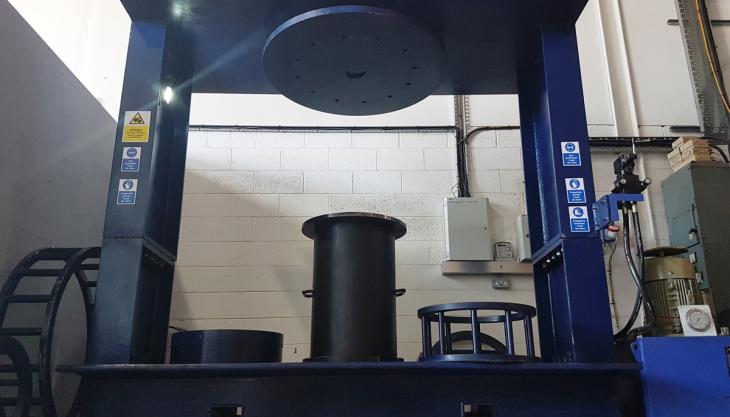 Investment in large, purpose-built, static press pays off for Glamorgan-based OTR tyre firm
FOLLOWING the news that Glamorgan-based OTR tyre suppliers Tyre Boss have invested in a second warehouse, the company has now taken delivery of a brand-new, purpose-built 250-tonne static tyre press.
The high-capacity machine, which measures more than 3m in height, can press tyres from 5.00-8 solids up to 24.00-35 solids, which means the company can handle the full range of pneumatic, solid and specialist tyres supplied by Tyre Boss for every make and size of off-highway machinery.
The press will not only be used for the company's service exchange scheme, but also for brand new tyre and wheel assemblies, allowing Tyre Boss to further improve on their already swift delivery times.
This will be particularly helpful at the present time, as lead times are under pressure due to increased demand from waste and recycling sites that are working round the clock to process domestic waste whilst the UK is in lockdown.
The new large press will also allow Tyre Boss to press for companies that need to outsource their pressing requirements.
Wayne and Victoria Collins, who own the business, said: 'We are responding to urgent calls for tyres and the new press has been a real godsend. We are working alone in the workshop and following all the hygiene protocols, including at the point of delivery on site.
'We have already pressed, delivered and fitted dozens of tyres since the press was commissioned, so the decision to invest in this piece of kit – which was made prior to the emergence of COVID-19 – seems to be paying off.'