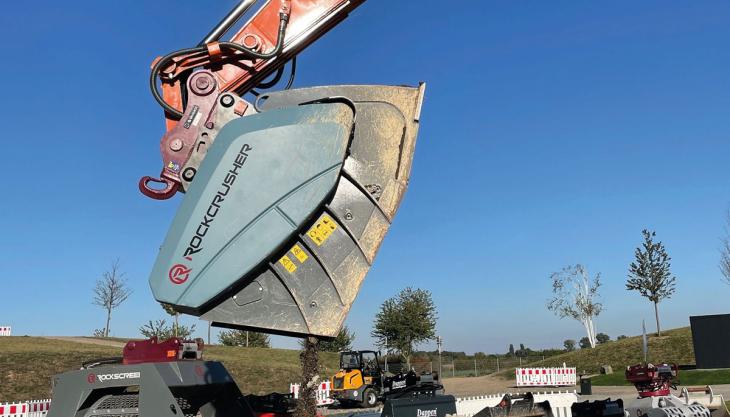 Company appointed as UK dealer for Rock.Zone buckets and attachments
INMALO have recently signed a UK distribution agreement for Rock.Zone's machinery attachments. Focusing on demolition, the company will be supplying the German manufacturer's Rockcrusher buckets and Rockwheel attachments.
The Rockcrusher bucket range has been specially designed to crush and recycle materials directly on site as an attachment on an excavator. Rockcrusher is available in four models (sizes) – the RC7R, RC9R, RC11R, RC13R – depending on project requirements and excavator size.
Suitable for use on small- to medium-sized projects, the machinery attachment produces reusable crushed backfill material with a consistent aggregate size for stability. The Rockcrusher crushing process uses a 'Quattro' movement with hydraulic jaw plates removing the need for further processing. A reverse function also allows any jammed material to be ejected safely.
The Rockwheel attachments feature revolving cutting units that effortlessly break up and crush concrete steel reinforcement without the need for additional tools to cut rebar and flat bar.
The attachments simply demolish and cut in a one-step process, thanks to the use of powerful carbide spiked tips; turning and ripping at high speed, making them perfect for applications, where a bucket/grapple would be too weak, and a hammer would be excessive and slow.
In addition to their well-known efficiency and performance, Rockwheels also deliver low-vibration and quiet operation – essential when working in sensitive locations such as urban and residential areas.
INMALO's Charles Polak said: 'We're delighted to partner with Rock.Zone and their products as customers need choices to ensure they have the best products to get the job done as safely and economically as possible. These products add significantly to our range of high-performance demolition attachments, giving customers a real choice, more options and providing clear and sustainable working benefits.'