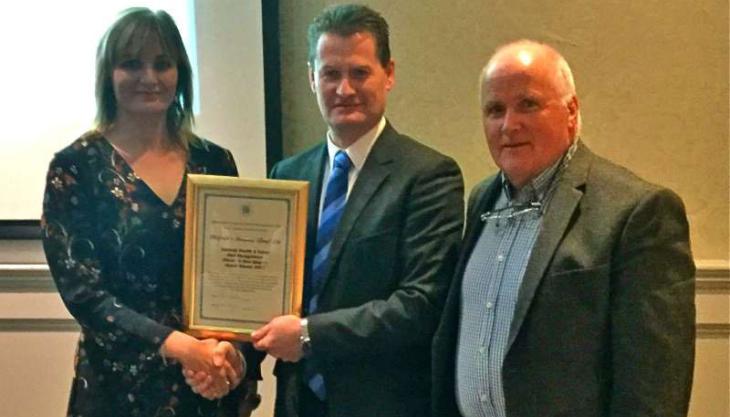 Family-owned business scoops ICCM National Health & Safety Risk Management and Best Quarry Award
McGraths Limestone, a family-owned and operated quarry located in Cong, Co. Mayo, Ireland, has been awarded the 'National Health & Safety Risk Management and Best Quarry Award 2017' by Independent Concrete Control Management Clg (ICCM).
ICCM Clg is is a group liability insurance scheme set up in 1988, which has acquired membership assets of more than €20 million and engages a full-time health and safety consultant who carries out regular health and safety audits on all scheme participants.
This has resulted in a significant saving in liability insurance costs for the group and a substantial reduction in both the frequency and the severity of accidents. All members are inspected annually and advised on how the management of their works may be improved to eliminate or reduce levels of risk.
The independent health and safety adjudicator who carried out the group adjudication on behalf of ICCM noted in his citation that McGraths of Cong have a very well laid out premises, well presented entrance, and a high standard of safety management throughout the quarry with a good working relationship with the company directors.
The company also has very good safety documentation in place, a good traffic-management plan in operation, and has invested substantial resources in health surveillance for its employees.
Presenting the award, ICCM chairman Frank Healy Jnr complimented the company's management and employees for their excellent achievement, which has resulted in an accident-free workplace and a substantial reduction in their liability insurance costs.
Health and safety officer Nicky Mulchrone, who joined McGraths almost five years ago, has overseen every aspect of the health and safety system, ensuring that the company constantly strives for continuous improvement in education, training and personal protective equipment for all employees.
She believes the whole is greater than the sum of its parts, and that by encouraging employees to work together it is possible improve health and safety throughout the quarry, making it a safer and healthier environment for everyone.
'Winning this award is great recognition of our employees' commitment to health and safety on a day-to-day basis,' she said. 'I am proud to facilitate the efforts of all involved in improving health and safety in the company and I'm looking forward to building on the accomplishments to date.'