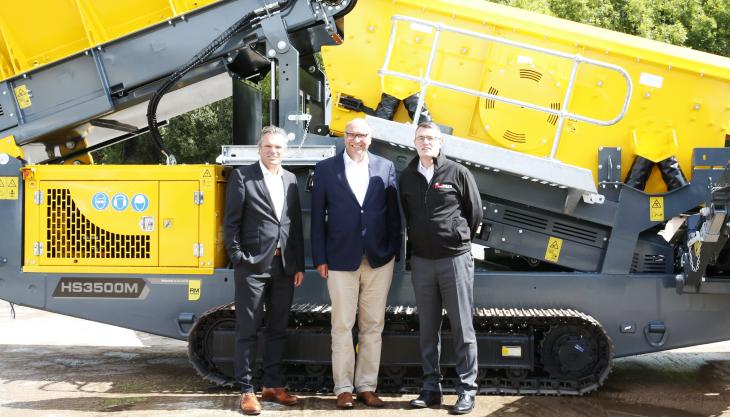 Leading crushing and screening equipment manufacturers now united under single worldwide brand
AS of this month (January), Irish screening equipment manufacturers Maximus have become part of the RM Group in name. This latest step follows the acquisition of Maximus by Austrian compact crushing equipment manufacturers Rubble Master in 2018.
Now, two sites, RM Dungannon, as experts in the screening sector, and RM Headquarters, in Linz, as crushing specialists, are united under one worldwide brand.
RM Group say the tracked mobile screens produced in Northern Ireland perfectly complement the Rubble Master product range, and their collaboration in recent years has had a positive impact on sales figures, as shown by 15% growth in 2019.
'Rubble Master have always promoted a company culture that brings people together – customers, suppliers and network partners. In recent years this culture has enabled us to exchange knowledge with our location in Northern Ireland, develop and launch new products and expand our expertise in all areas,' said Rubble Master's founder and owner, Gerald Hanisch.
With a major focus on the restructuring of processes and market and product evaluation, RM Group say many synergies have been employed since the acquisition, such as shared suppliers and increased co-operation in innovation, product management and sales.
As a result, over the last two years, the initial partnership with Maximus has evolved and two centres of excellence have emerged – the production site in Northern Ireland as the expert for tracked mobile screens and the production site in Upper Austria as the world market leader for mobile crushers.
'We see the rebranding as the next logical step so that we appear on the market as a strong, full-solution provider with one brand name – the RM Group,' explained Mr Hanisch.
'Consistent branding as the RM Group is especially beneficial for the customer. As a full-solution provider, the product range will appear in the same yellow livery, further synergies will be utilized and the team will be brought together.'