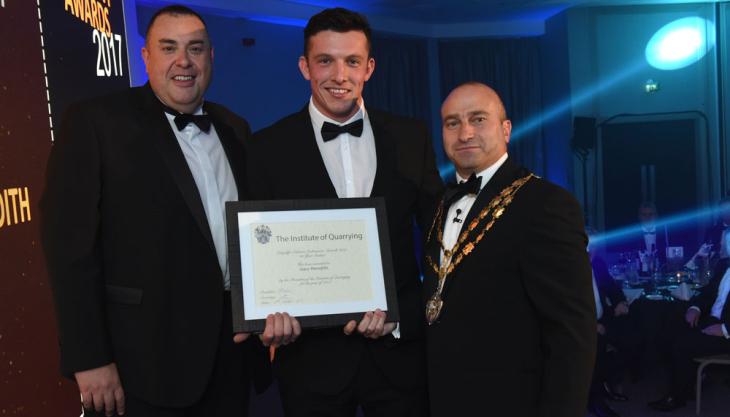 Institute of Quarrying honours highest-achieving students with prestigious awards at its 'Inspiring for Generations' centenary dinner
THE Institute of Quarrying's (IQ) annual student awards took place at this year's 'Inspiring for Generations' centenary dinner at the Belfry in Sutton Coldfield. 
The eight winners from the University of Derby's Centre for Mineral Products Professional Development received their awards in front of an audience of more than 200 guests drawn from across the mineral extractives sector. 
Mark Osbaldeston, head of Centre for Mineral Products at the University of Derby, presented each winner with an award, accompanied by Dr Miles Watkins, IQ President, and James Thorne, IQ CEO.
Mr Thorne commented: 'The IQ Student Awards are presented for academic excellence to students attending the University of Derby's Centre for Mineral Products Professional Development. Each winner has excelled in their own field and each award is in recognition of outstanding achievement. 
'There are six award categories, each of which is named after a legacy sponsor from within the industry. This year we have two winners in two of the categories, alongside individual winners in each of the remaining four categories. Our congratulations go out to all winners.'
The Goodwin Barsby Award, originally endowed by Leicester-based manufacturers Goodwin Barsby, was awarded to Gary Morgan for Best Honours Degree Student 2017. Gary, employed by Hanson UK, is now area operations manager based in south-west England.  
The Reginald W Coles Prize, bequeathed in memory of Mr. R. W. Coles, a past President of IQ, was awarded to Robert Symes for Best Foundation Degree 2017. Robert, employed by Tarmac, is now south west area operation manager for Stancombe Quarry, in Bristol.
The Ransomes Rapier Award, endowed by the historical excavator manufacturer, was awarded to Joshua Mason for Best Higher Apprentice 2017. Joshua, employed by Tarmac, is currently assistant quarry manager at Ballidon Quarry, in Ashbourne.
The Springbank Quaich Award was awarded to Bartosz Smoczek for Best Foundation Degree Student 2017. Employed by Breedon, Bartosz is currently assistant quarry manager at Craigenlow Quarry, in Aberdeenshire.
Two Longcliffe Calcium Carbonate Awards of Excellence were awarded to Gary Meredith, a first year student, and Derrick Mingo, a second year student, for Foundation and Certificate Year, respectively. Gary, employed by Tarmac, is asphalt plant operator at Bayston Hill Quarry, in Shrewsbury, and Derrick, employed by Imerys, is mobile plant supervisor at Fal Valley Pits, in Cornwall.
Two Peter Preston Awards, bestowed by the late Peter Preston, managing Director of the Cliffe Hill Granite Co., were also awarded to Toby Byers for Best UK Diploma Student 2017, and Ciaran McCann for Best International Diploma Student 2017. Toby is working for CEMEX UK as assistant quarry manager at Leyburn asphalt plant, in North Yorkshire.