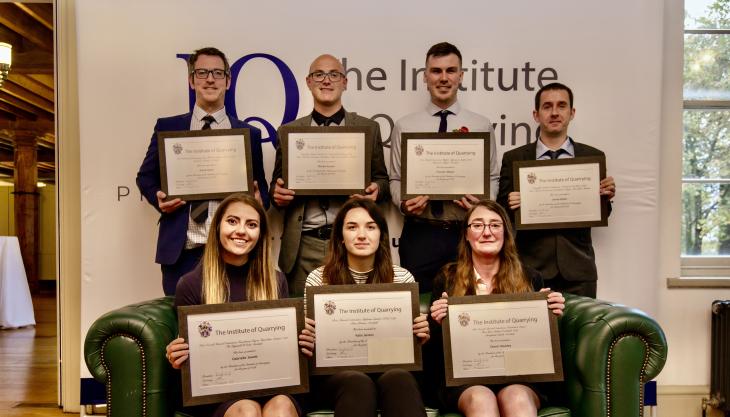 Top University of Derby Students presented with awards and prizes at the Tower of London
WINNERS of the 2019 Institute of Quarrying (IQ) Student Awards were presented with their awards and prizes against the impressive backdrop of the Tower of London.
The presentation ceremony took place in front of more than 100 guests from across the minerals products industry at the IQ Fellows' Lunch. Mark Osbaldeston, head of the Centre for Mineral Products at the University of Derby, presented the awards to the eight high-achieving students, accompanied by IQ president Phil Redmond and IQ chief executive officer James Thorne.
Mark Osbaldeston said: 'Congratulations to this year's cohort of IQ Student Award winners. Each and every one of you have excelled academically and demonstrated an outstanding continuous commitment to the minerals products industry. The Institute of Quarrying's Fellows' Lunch at the Tower of London provided the perfect setting to celebrate your achievements. We certainly have some future leaders amongst us.'
David Owen MIQ, asphalt plant manager at Aggregate Industries UK, was awarded The Goodwin Barsby Award, originally endowed by Leicester-based manufacturers Goodwin Barsby, and a £200 prize for Best Honours Degree Student 2019.
Mr Owen is only the second person to achieve a first-class honours degree on the MSc Minerals Management course at the University of Derby's Centre for Mineral Products. He was praised by tutors for always performing to a very high level in all his modules, with his commitment, abilities and work ethic described as exemplary.
The Reginald W Coles Prize, endowed in memory of past President of IQ, Mr R.W. Coles, was awarded to Gabrielle Jewett, assistant quarry manager at Tarmac, for Best Overall Mineral Extractives Foundation Degree Student 2019. She also received a £200 prize. Tutors praised her commitment and desire to be a high achiever; in her three years of academic learning, Ms Jewett never missed a tutorial weekend or required a time extension for assignments.
Project manager at Hanson UK, Thomas O'Boyle TMIQ won The Ransomes Rapier Award, endowed by the historical excavator manufacturers, as well as a £200 prize for Best Mineral Extractives Higher Apprentice 2019. As a 'newcomer' to the industry, Mr O'Boyle impressed tutors with his overall performance. Despite his limited experience of the industry, he averaged an overall 86% assignment score, which was described as a tremendous achievement.
Diane Housley TMIQ was crowned the winner of The Scottish Springbank Quaich Award for Best Third Year Foundation Degree Student 2019 and walked away with a £200 prize. She has been commended for being an actively engaging student who always used feedback to ensure continual improvement in her learning and assignment submissions.
Two Longcliffe Calcium Carbonates Awards of Excellence were awarded to the Best Performing Mineral Extractives Foundation Degree Students in Year One and Two.
First-year student James Butler MIQ, employed by Lagan, has been described by tutors as 'one to watch' after achieving excellent results in his first year of the Foundation Degree. Second-year student Michael Russell, employed by Tarmac, impressed tutors with his enthusiasm and commitment to learning. Both students also received a £200 prize.
Best UK Diploma Student 2019, Katie Sexton, and Best International Diploma Student 2019, Ryan Reid TMIQ, were awarded The Peter Preston Award, bestowed by the late Peter Preston, managing director of the Cliffe Hill Granite Co, and a £200 prize each.
Ms Sexton, graduate operational management trainee at Aggregate Industries UK, proved to be a model student, with all assignments submitted on time and to a very high standard. Mr Reid, graduate mechanical engineer at Roadstone Ltd, was praised for achieving one of the highest average marks out of all Diploma students for the 'Blasting Operations' module.
The higher education qualifications, through the partnership with the Mineral Products Centre, are delivered by the University of Derby in partnership with IQ and go hand in hand with everyday operations in the quarrying industry.
Earlier this year more than 60 students, representing a wide range of quarry operators and associated industries, successfully graduated from the University. For further information visit www.quarrying.org.