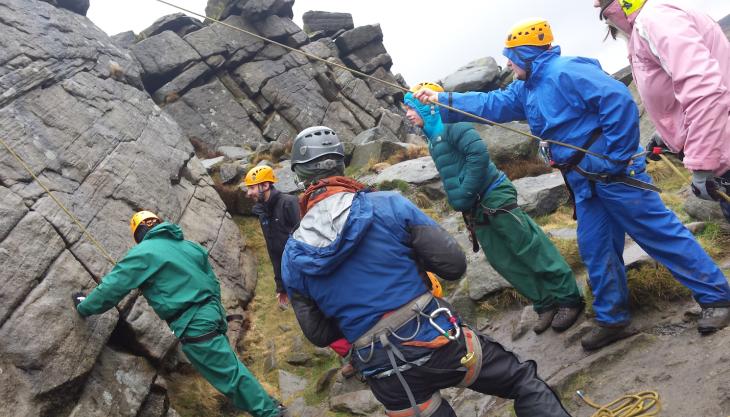 Future leaders of the mineral products sector set to learn new skills in Derbyshire's great outdoors
AROUND 75 apprentices from the University of Derby's Centre for Mineral Products will be descending on Derbyshire's Peak District in April for a week of challenges designed to inspire future industry leaders.
The higher-level apprentices are Year 1, 2 and 3 students from the University of Derby's Centre for Mineral Products. The programme is organized with the assistance of Lindley Educational Trust and is co-ordinated from its Hollowford centre, near Castleton.
Mark Osbaldeston MIQ, head of Centre for Mineral Products at the University of Derby, said: 'The week at Hollowford is an annual highlight for our apprentices. It provides a great opportunity to take learning scenarios out of the classroom and apply them in an inspiring setting. Plus, apprentices get time to socialize and share experiences and ideas with colleagues from across the mineral products sector.
'It's also a great focal point for partner organizations, including our colleagues at the Institute of Quarrying. The Institute is an essential contributor to our higher apprenticeship and degree-level courses. Having them join us at Hollowford is a real bonus for the apprentices, particularly as this year they are taking a more hands-on role in the programme, applying their experience and expertise to a number of activities.'
The week's content is designed by Lindley Educational Trust, in collaboration with the University of Derby and Institute of Quarrying. Content is tailored to each of the three year groups.
Year 1 apprentices plan and problem solve together and are inspired to develop the new skills that enhance their ability to contribute to teams in their workplace.
Year 2 apprentices learn about managing others effectively, building on the learning and development from year one and reflecting the increasing responsibilities of the more experienced apprentices.
Year 3 apprentices focus on industry-specific leadership, knowledge and skills. A series of case studies and a mock industry development project take learning to date and challenge the apprentices to apply it to a complex real-world scenario.
Sean Snow, one of the development trainers at Hollowford, said: 'The apprentice groups are made up of people of all ages and experience from across the quarrying and mineral products sector. It's a rich melting pot of ideas and we take that and apply it in a series of tailor-made scenarios designed to provoke positive responses and behaviours.
'Each year group will have a different experience, but all are intended to equip apprentices with essential skills that will help them to become future industry leaders.'
James Thorne, IQ's chief executive officer, added: 'This is the fourth year that the week-long programme at Hollowford has run. As the industry membership body, we're keen to engage with people working at all levels in our sector. The week at Hollowford provides a great setting against which to introduce the apprentices to what we do and to reinforce the importance of membership as they progress in their career.'  
The five-day programme at Hollowford will take place from 14–18 April 2019.