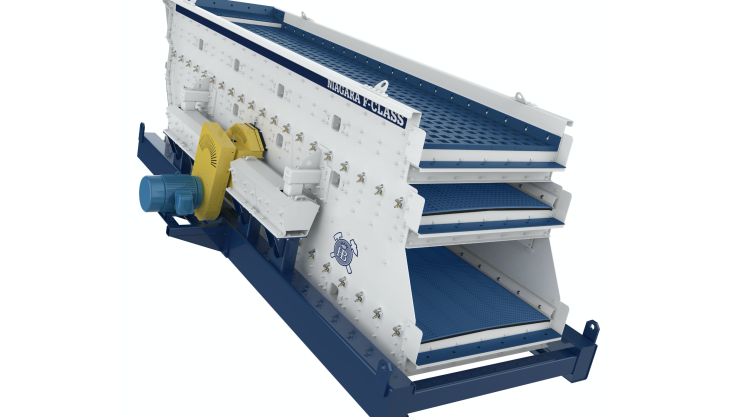 Latest screening unit offers enhanced performance, easier serviceability and longer working life
CANADA-based Haver & Boecker Niagara have updated their portable Niagara F-Class vibrating screen with new technology for maximum performance, simplified maintenance and longevity.
The revised design retains the technical benefits of the original F-Class machine is renowned for, such as improving performance in material stratification and reducing blinding and pegging. The F-Class is now primarily manufactured with vibration-resistant lockbolts instead of the traditional welding used in previous designs.
Haver & Boecker Niagara noted that the lockbolts are more effective at maintaining structural integrity during the demanding load-bearing, high-vibration operation of the vibrating screen, whilst also making maintenance more convenient, safer and cost effective.
Bar rails are now fastened to the cross beams with lockbolts, which makes them easy to exchange if they become worn. The robustness of the machine also allows cross beams to be positioned and lock-bolted every 4ft instead of every 2ft, which provides better clearance and easier maintenance.
Haver & Boecker Niagara have also redesigned the flat deck models of the new F-Class screening unit to create the largest amount of open area possible for modular screen media. Featuring replaceable polyurethane anchors, the new high open area modular deck is said to be suitable for virtually any pin and sleeve modular screen media.
The open design of the modular deck also prevents material build-up on the bar rails, whilst the polyurethane anchors are easy to replace and prevent premature wear on the deck frame.
The updated F-Class vibrating screen can be manufactured for side-tensioned, or bottom deck end-tensioned, screening media. Each new side-tensioned machine comes with Haver & Boecker Niagara's patented Ty-Rail quick-tensioning system, which reduces screen media change-out times by around 50%.
Unlike the previous design, the latest F-Class has the option to upgrade with Haver & Boecker Niagara's new Drop Guard system. The liners provide protection for the machine's cross beams, reducing wear and extending vibrating screening life. The blue liner drops over the cross beam with no adhesive or tools required, making installation quick and easy.