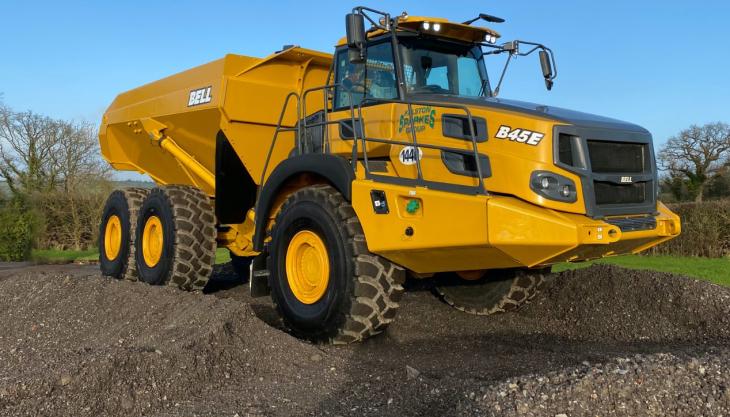 Operator of the largest Bell B50 articulated dumptruck fleet in Europe adds four B45Es to its fleet

ONE of the country's leading earthworks, quarrying and training specialists, the Kelston Sparkes Group, has introduced a new Bell articulated dumptruck (ADT) model to its extensive fleet with a recent investment in four Bell Equipment B45Es.

The company, which recently marked the 20th anniversary of its highly successful training school, already runs one of the most sizeable ADT taskforces in the UK – inclusive of the largest fleet of Bell B50E vehicles in Europe.
The new Bell models have been brought on board to reinforce Kelston Sparkes' safety credentials, reduce site traffic and decrease fuel consumption, as company director Kelston Stark explained: 'We began investing in large-capacity Bell ADTs back in 2015, establishing our Bell fleet with the purchase of four B50Ds, followed by a further four the following year.
'Bell were the only manufacturer able to offer us an ADT of this tonnage and the machines' ground capabilities quickly led to two additional purchases in 2017. Then, in 2019, we purchased our first consignment of the evolved model, the B50E. We secured four machines, which have certainly delivered in terms of improved visibility, ride experience and heightened safety features.

'Both model types have been superb to work with and have presented us with a cost-effective route to achieving larger payloads in the quarry environment. However, we're a versatile operator and felt that by investing in an ADT that offers greater flexibility, whilst still meeting our high payload expectations, we could provide clients with even more resourceful solutions.'

Mr Stark is referring here to the company's recent investment in four B45Es – a relatively new model to the UK that is larger than the Bell B40E but more manoeuvrable than the B50E, making it suitable for both quarrying and non-quarrying applications.

'The four new 45-tonne trucks have successfully replaced six smaller 30-tonne vehicles that were operating within Aggregate Industries' Callow Rock Quarry,' he said. 'Four B45Es can easily achieve the same payload as six smaller ADTs, but with greater efficiency, reduced overheads and decreased fuel consumption. And fewer vehicles means reduced traffic volume on and around the site, which, in turn, makes operations safer and improves integration with road wagons.'

Helping to confirm the machines' efficiencies and productivity, Kelston Sparkes' operatives refer to Bell Equipment's Fleetmatic onboard weighing technology on a daily basis, to monitor payload quantities and ensure fill factors are maximized.

According to Mr Stark, the company's operatives have the expertise to get the most effective information from the system's real-time tracking and monitoring, and he confirmed that providing superior levels of training for operatives, alongside high-calibre machinery, continues to be a key part of the Kelston Sparkes' ethos.
Providing accredited training for CPCS (Construction Plant Competence Scheme) and OSAT (On-Site Assessment Training), as well as specific grants for CITB (Construction Industry Training Board) registered companies, the company's training school has recently marked 20 years of successfully equipping both employees and external personnel with specific training to keep them safe, qualified and progressive.

'We return to Bell Equipment for good reason,' added Mr Stark. 'With our fleet's older Bell ADT machines now close to achieving 11,000h, Bell equipment readily proves itself to be reliable and hardworking, as well as capable of moving materials cost-effectively, consistently and safely to benefit client, operative and company alike.'