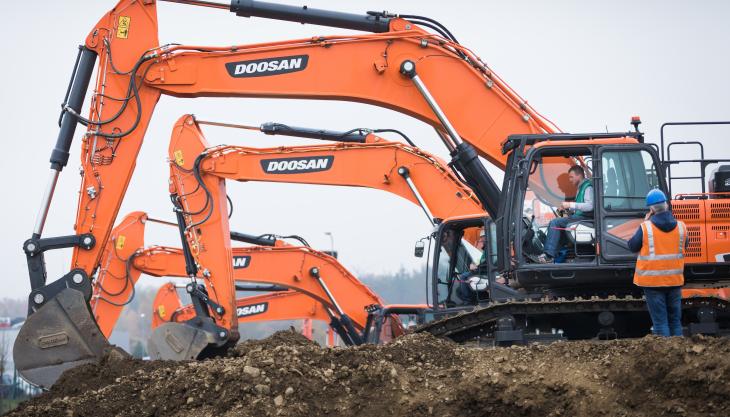 Nearly 800 visitors from across the EMEA region attend latest demonstration event in Czech Republic
WITH nearly 800 visitors attending over two weeks in October, Doosan Bobcat say their Demo Days event continues to go from strength to strength, with the latest edition also revealing how international the event has become, as Doosan and Bobcat dealers and customers from around 30 countries across the Europe, Middle East and Africa (EMEA) region travelled to the Czech Republic to be part of the occasion.
According to Doosan Bobcat, the success of Demo Days can be explained by the concept itself: it provides a unique opportunity for dealers to invite their customers and prospects to try out the full range of Doosan and Bobcat machines in working conditions, and gives them the opportunity to talk to product specialists and demonstrators from Doosan Bobcat.
The venue for Demo Days is the Doosan Bobcat campus at Dobříš, close to the capital city of Prague. This is a unique operation among the company's many facilities around the world, combining a manufacturing plant, innovation centre and training centre on the same site. It is also the development point for new machines and technology, including the Doosan Portable Power range, prototyping and pre-production, and the delivery of training for dealers and customers in EMEA.
Opened in 2007 and expanded in 2015, the 6,000 square metre training center facility at Dobříš provides training for the entire portfolio of Doosan and Bobcat products, with the aim of encouraging business growth through the development of professional skills across the business, as well as offering world-class training of dealer management, salesforces, service staff and aftermarket teams, as well as employees at Doosan Bobcat.
At the Demo Days, the external space at Dobříš was maximized to give customers plenty of room to operate everything from the largest machines in the Doosan range, including excavators, wheel loaders and articulated dumptrucks, to the full line-up of products under the Bobcat brand, including skid-steers and compact tracked loaders, compact excavators, telehandlers and associated attachments.