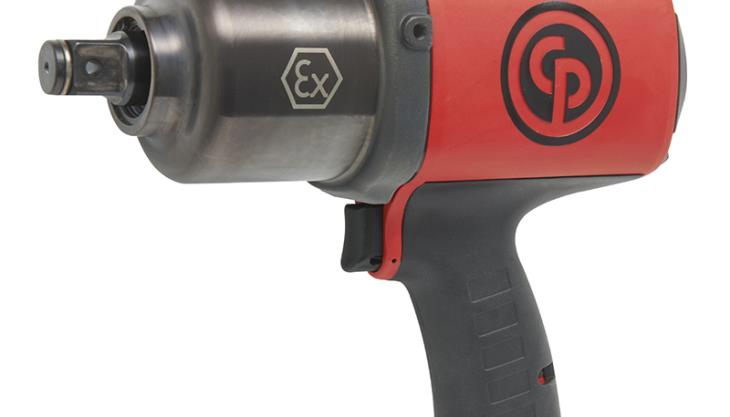 Latest ATEX-certified CP67x8 wrenches specially designed for demanding industrial MRO applications
CHICAGO Pneumatic have launched a new range of state-of-the-art composite impact wrenches for maintenance, repair and operations (MRO). According to the firm, the CP67x8 series is setting a new power and durability performance standard in some of the most demanding industrial environments, including mining and heavy-duty maintenance.
With a maximum torque of 1,290ft/lbs (1,750Nm), the CP67x8 wrenches deliver the one of highest torque outputs available for this category of tool. With high durability and intensive use in mind, the impact wrenches feature robust internal components and an external design.
Constructed with high-end steel motor parts and a double-dog clutch in an oil bath with steel clutch housing, this ensures the tools withstand drops and shocks and can be used reliably in harsh environments. In addition, IP6 dust ingress protection and ATEX certification contributes to the CP67x8 series' superior durability and increases its operational versatility for use in hazardous areas.
'Our new range of industrial impact wrenches are specifically designed to bring users both power and durability with their tools,' said Luis Clement, vice president of Chicago Pneumatic Tools.
'With ATEX certification and IP6 dust ingress protection, the CP67x8 range performs exceptionally well for long periods of time under the stresses and strains of many different and difficult working conditions. We are fully committed to supporting our customers in heavy industry and are investing in developing high-quality durable tools for demanding industrial applications.'
He continued: 'With the introduction of the CP67x8 series, we can now provide a complete solution to mining applications, where explosion-proof tools are essential. Our wide portfolio of tools bridge the gap by supplying robust tools for low-, medium- and high-intensity applications to suit the needs of every MRO.'
The CP67x8 impact wrench series comes with additional accessories, including the company's Air Flex swivel connector range, providing users with additional manoeuvrability while connected to an air hose.