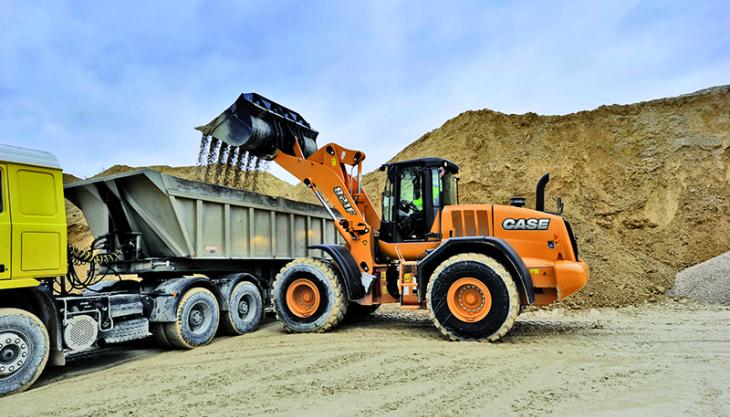 Company to showcase 621F XR and 821F ZB wheel loaders and SR 160 skid-steer loader
CASE Construction Equipment will be showcasing machines for the waste and recycling sector from their heavy and compact ranges at this year's show. The line-up will include a 621F XR waste-specification wheel loader, an 821F ZB wheel loader, plus the versatile SR160 skid-steer loader.
All three machines are equipped with the latest fuel-efficient, emissions-compliant engines, offering high levels of productivity and performance as well as being designed with safety and operator comfort in mind.
The two models on display from Case's new F-series wheel loader range – the 821F ZB and the 621F XR – have been designed specifically for use in harsh environments such as the waste and recycling sectors.
As with all machines in the Case F-series range, they have powerful, fuel-saving Tier 4 Interim-compliant engines that achieve emission requirements through the use of Selective Catalytic Reduction (SCR) technology. Eliminating the need for a Diesel Particulate Filter (DPF) or extra cooling means the engine hood is more compact, which provides better rear visibility.
Safety and operator comfort are integral to the design of the F-series machines. The Case Quiet Cab is said to offer class-leading comfort and visibility with a standard rear-view camera and floor-to-ceiling windows, plus optional joystick steering. In addition, an improved lighting system comprising six LED lights provides a far-reaching spread with more than 21,000 lumen of lighting power.
At the smaller end of the market, Case's latest range of skid-steer loaders will be represented by the SR160. As with all models in this range, the SR160 offers high breakout forces, increased productivity and lower emissions. The machine benefits from an economical CEGR set-up, together with a convenient maintenance-free solution to meet Tier 4 Final emission standards. The SR 160 also has one of the widest cabs available, providing excellent all-round visibility.
The Case team will be on hand during the show to discuss the latest service packages and provide information on the company's range of highly competitive finance packages for the UK, which includes 0% interest on the compact range.
Stand: OA115